TFF in the News
Pew International Journalism Program
Africa Has Made Impressive Gains Towards Democratic Rule, But Huge Challenges Remain, Says Africa Expert
January 28, 2003
By Trenton Daniel, Spring 2003 Pew Fellow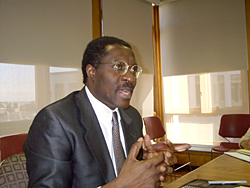 WASHINGTON, January 28, 2003 - African countries have made considerable progress developing democratic institutions since the end of the Cold War, but many formidable challenges remain, a noted specialist on African democracy told the spring 2003 Pew Fellows.
Since 1989 when the Berlin Wall fell and the United States and Soviet Union no longer felt compelled to support client states on the continent, many of Africa's 53 countries have undergone a radical transformation, said Dr. Christopher Fomunyoh, a senior associate on Africa for the D.C.-based National Democratic Institute for International Affairs.
In his talk to Pew Fellows and graduate students at Johns Hopkins' School of Advanced International Studies, Dr. Fomunyoh noted that over the past 12 years sub-Saharan African countries have made progress developing traditional democratic institutions. Many countries now have independent electoral bodies, legal entities that oversee constitutional matters, and legislative mechanisms that aim both to empower citizens and limit the power of the executive branch - impressive accomplishments for many countries that were one party states for decades. Many African countries now have a vibrant civil society, and a new political actors have appeared on the scene.
Dr. Fomunyoh pointed to the December presidential elections in Kenya as a recent success story. The ruling party ceded power to the opposition after ruling for nearly four decades since Kenya's independence from Britain in 1963. "That was really a facelift for Kenya, and a reason for hope for not just East Africa but a lot of the continent in terms that of confirmation that political change could take place through the electoral process," he said.
Still, with civil unrest currently rocking the Ivory Coast, West Africa's one-time beacon of political stability and economic prosperity, it is likely that much of Africa will continue to wrestle with obstacles in the coming years.
Many African countries still face flawed election processes, politicized armed forces, a recalcitrant bureaucracy, and weak political parties driven by charismatic leaders rather than platform-rooted politicians, Dr. Fomunyoh said. The HIV/AIDS virus is causing widespread devastation, increasing poverty and famine on the continent.
"I think the picture speaks to the diversity of the African continent," Dr. Fomunyoh said. "By the sheer number of countries involved you are always going to be going to be having some countries moving forward and other countries backsliding. You are always going to have tragic stories coming out of some of the countries but at the same time very hopeful stories coming out of other countries "
Copyright ©2002 Fellowships in International Journalism All Rights Reserved