TFF in the News
The Fomunyoh Foundation to advocate for the University of Maroua
March 9, 2015

This resolve was taken during a visit to that institution of higher learning by delegation from the Foundation.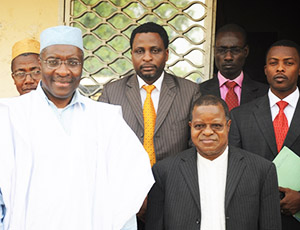 According to the Rector of the University of Maroua in the Far North Region of Cameroon, Prof. Ako Edward, the United States of America and European countries had since declared the Far North Region a risk zone and ordered its citizens to quit the Region. The Rector told the delegation from The Fomunyoh Foundation headed by its founder Dr. Christopher Fomunyoh, that all European and European expatriates who were working in the University had absconded. He said only a few Chinese were left.
The team from The Fomunyoh Foundation was in the Far North Region to donate food items to internally displaced victims of the Boko Haram uprising.
Prof Ako observed that the hardest hit institution was The Higher Institute of the Sahel (ISS). He said all the ten sections that made up this institute including: livestock, water, agriculture, and mining needed attention. "Foreigners used to come here, but the security situation in the area has scared them," the Rector of the University of Maroua noted. He said over 30% of PhD students enrolled in the university came from Chad. This unfortunately he said was not the case today. The Rector just like the Director of ISS Prof. Danwe Raidandi, called on Dr. Christopher Fomunyoh to act as an ambassador of the institution so that it regained the confidence of donors.
In response, Dr. Fomunyoh acknowledged the school occupied an important position in the sub-region and guaranteed that he was available as ago-between with donors. He promised that on his return to Washington he would start lobbying and canvassing for partners to come to the aid of the University of Maroua. In the short-term he has pledged to donate books from his The Fomunyoh Foundation The Higher Institute of the Sahel (ISS).
The Fomunyoh Foundation — www.tffcam.org is a non-profit organization that works to promote democracy, social and humanitarian causes in Cameroon. Since its launch in 1999, the Foundation organizes workshops to raise citizen awareness and strengthen the capacity of civil society organizations and journalists. The Foundation has also conducted activities in partnership with development associations such as the women of Bonadale, Douala in the Littoral Region and the traditional Fondom of Foto-Dschang in the Western Region. The Foundation has also donated books and other didactic material to a number of municipal councils and academic institutions within the North West Region as well as in the capital city of Yaounde, in the Centre Region, Maroua in the Far North, Garoua in the North and Ngoundere in the Adamawa.
Mokun Njouny Nelson in Maroua