TFF in the News
Cameroon U.S embassy staff visit The Fomunyoh Foundation
October 8, 2014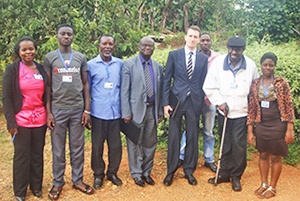 Two personalities from the Political Bureau of the American Embassy in Yaoundé visited to The Fomuyoh Foundation - TFF in Bamenda North West Region, on Tuesday October 7, 2014.
Connor O'steen Political, Officer and Jacques Kateu, Political Specialist discussed a wide range of issues with the staff and management of Foundation Radio.
Both officials were impressed with the overall objectives of The Fomunyoh Foundation, most especially with the quality of programmers broadcast by Foundation Ratio, one of the components of the Foundation.