TFF in the News
After elections: PCC fractured, but enduring
November 26, 2014

The new Moderator of the Presbyterian Church in Cameroon (PCC), Rev. Fonki Samuel and the Synod Clerk Rev. Fonchang Babila George have the herculean task of uniting a church in camps
When two or more are gathered in his name, he shall grant their request. This was the case the 120 delegates of the Electoral College of the 47th elective synod of the Presbyterian Church in Cameroon, the P.C.C. meeting at the Ntamulung Presbyterian Church Centre in Bamenda on Tuesday November 25th, 2014, they requested and God heard their prayers.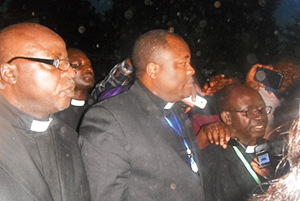 When the doors hosting the conclave of the Electoral College opened, anxious Christians who had waiting the whole day exploded with songs of joy. "Finally the lord has done it again.," they sang.
It was the outgoing moderator, the Rt Rev. Dr. Festus Ambe Asana who had the privilege to officially announce the names of the new moderator and synod Clerk of the Presbyterian Church in Cameroon. According to the results; for the position of moderator, Rev. Fonki Samuel had 74 votes against 46 for the Rev. Abwenzo William who happens to be the outgoing Synod Clerk. Rev. Fonchang Babila George got 70 votes to be Synod Clerk against 47 for Rev. Nganji Christian.
The new P. C. C Moderator Rev Fonki Samuel hails from Akwaya in the South West Region and the Synod Clerk Rev. Fonchang Babila George from Bali in the North West Region.
The outgoing moderator Rev. Festus Asana thanked the new team for resisting the temptation of campaigning for themselves.
In his first declaration to the press, the Moderator-elect, Rev. Fonki Samuel said he learnt the lessons of hope and humility from the departing team and promised to uphold such virtues. He then assured Christians of the PCC that they would constitute his strength.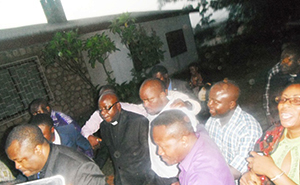 It was intend a highly contested election that lasted a whole day with a lot of bad-mouthing diatribe and near insults from supporters of the different contesting camps. The attitude of some of the pastors and men of God raised eyebrows. This provoked many observers to consider the exercise more political than religious. The supporters of those who won even jubilated, to the chagrin of the losers, who smuggled themselves, in dispersed ranks to unknown destinations. This was a noticeable case of the incumbent Synod Clerk, the Rev. Abwenzo William who lost in his attempt to become moderator.
In spite of assurances from the outgoing moderator that the PCC would come out stronger after these elections, the reality may be the contrary. The Presbyterian Church in Cameroon is in camps; it is fractured, but should move ahead after all. And this is the daunting task that awaits their new moderator, Rev. Fonki Samuel and his Synod Clerk, Rev. Fonchang Babila George. If only they stand on Christ the solid rock, God be their helper.
Mokun Njouny Nelson