TFF in the News
"The Cameroon of Tomorrow" book was launched in Bamenda
November 12, 2014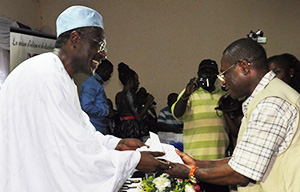 Dr. Fomunyoh with the Senior Divisional Officer for Mezam, Felix Nguele Nguele
See more photos
The book, "Dr. Christopher Fomunyoh; The Cameroon of Tomorrow: The Man of his Words" is a series of thoughts, messages, criticisms, proposals from Dr. Christopher Fomunyoh a legalist cum politician, put together by Mokun Njouny Nelson, a journalist par excellence. It was launched in Bamenda on Saturday the 8th of November 2014, in a grand occasion attended by the Senior Divisional Officer for Mezam, Felix Nguele Nguele, scholars, a cross section of the population and Dr. Christopher Fomunyoh himself.
Speaking during the launch, Dr. Fomunyoh was categorical in stating that to contribute in the political, economic and social development of one's country one must not do so through the platform of a political party created by the individual by himself. He said the political party worth the salt is one that articulates and represents the wishes and hope of a people. For him, change may not necessarily come through opposition parties but could be through a melange of both civil society organisation and other political platforms: "meaningful change is usually brought about by a much broader movement that encompasses not just the political opposition parties."
The author, Mokun Njouny Nelson, talking to the press, observed that the realization of the piece has been a challenge worth trying, adding he could not afford to allow such thoughts and ideas expressed by his mentor to lie fallow in cupboards. Dr. Fomunyoh to him has been a role model and a source of inspiration. This explains why he had to get involved in such a piece of work, which is the first of its kind in terms of from. In the foreword of the book written by Prof. Tazoacha Asonganyi, former secretary general of the Social Democratic Front-SDF and presented on his behalf at the launch, he intimated that, "Dr. Fomunyoh has been making considerable efforts to furnish the glue that hold people together, and the imagination around which people can mobilized to bring change to our society."
He said that "those who are leaders of big medium and small political parties, as they are described in the divisive opposition ranks had better pay attention to this vision of Dr. Fomunyoh."
The book, as mentioned earlier, is collection of the expressed ideas of Dr. Fomunyoh and traces the political, economic and social evolution to the Anglophone problem. It also proposes solutions to the staring and impending mayhem that might befall the peace loving people of Cameroon if some of these proposals are not heeded to.
He states in one of the extracts, "We need dialogue at every level in this country, to take stock of what has been accomplished, of where we failed as a nation and see what we can do to make our country is guaranteed sustainable democracy."
On the Anglophone problem in Cameroon, Dr. Fomunyoh in the book thinks that there is an Anglophone problem which is real. But he says Anglophone must learn to shake off the "victim mentality" and rather organised to constitute a force that could stand and demand for the right needed.
Ngah Benjamin
The Times Journal