TFF in the News
Nwen Fon declares for CPDM, pledges land
October 16, 2014

It was in the presence of Central Committee (CC) delegates, CPDM Secretary General's personal representation, Mezam I section Executive, North West Fon Union's executive, the Region's administration and the population of Nkwen.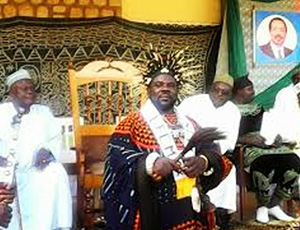 Excitement gripped millions of the Cameroon People Democratic Movement, CPDM party in particular and the population of Nkwen in general Friday September 19, 2014, when their new paramount ruler, king Azehfor III openly and publicly declared his total support and loyalty to the ruling Cameroon People Democratic Movement. Installed less than a year ago after his father passed on, Fon Azehfor III used the occasion of the joint subsections in Nkwen's visit to pay homage to him as their new leader to declare his support and membership into the CPDM fold. Being the very first time a Nkwen Fon has taken such a bold step in the politically challenging environment, the paramount ruler of Nkwen, one of the most populous village in Mezam Division virtually set out to take CPDM to a different pedestals as his influence in the Fondom is unmatched.
This decision is coming at a time when the debate is raging in Cameroon as to whether Fons should be involved in partisan politics.
Colbert Nwain
L'ACTION