TFF in the News
Foundation Library donates 2.5 million worth text books to 25 Secondary Schools
October 16, 2014

"The future of this country now depends on a different culture not on us, but in our children. Reasons why the Board of Directors of The Fomunyoh Foundation –TFF - decided that these of secondary schools, after the primary institutions benefit from the donation of books."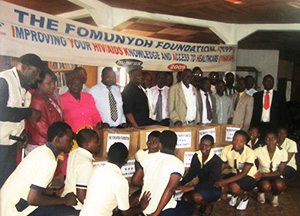 This is an excerpt of the speech given by the station manager of Foundation Radio, Mokun Njouny Nelson on the occasion of the handing over of the books donated by The Fomunyoh Foundation, through the Foundation Library to 25 schools within the North West Region of Cameroon. According to him The Fomunyoh Foundation was conscious of the fact that "the one best way to inculcate all these values in our children is to rekindle in them a reading culture, because knowledge is found and stored on books not in bottles of beer."
The handing over ceremony, which took place on October 16, 2014 at the TFF building, Mile 6, Ngomham Bamenda saw the presence of principals and other representatives from the 25 schools. Speaker after speaker expressed surprise and were marvel at the big consignment of books they received.
Among these schools were County Bilingual Education Complex Ngomgham, Government Bilingual Secondary School Ngomgham , Bilingual Comprehensive High School Nacho Bamenda, St Ferdrick Presbyterian Comprehensive Secondary School Azire (PCSS), A P C Teze Ngie in Momo Division, Step by Step High school, Model Secondary School Santa, amongst others.
At the end of the ceremony, all the school authorities promised to put the books to good use, as well as make use of the extensive collection of books in the Foundation Library.
Priscilia Ninge
Foundation Radio