TFF in the News
CCC Plc to be full-fledged bank
March 20, 2014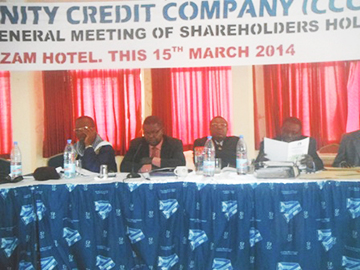 The Board of Directors of the Community Credit Company (CCC) PLC expressed this determination to transform the micro-finance institution into a full-fledged bank during the 11th annual general assembly meeting of the Board that held at the Bamenda Azam Hotel Saturday April, 15.
Presenting the balance sheet of the finance house for the 2013 financial year, the CCC PLC board chairman Professor Peter T. Ndifon, said despite the inherent challenges they were able to "realize the first quarter of the capital increase of 50 million and that there is the need to continue with the realization of the subsequent installments to attend an overall target of 200 million." He said there was need to be positive in order open more branches, by expanding their network and make more dividends and "acquiring the status of a bank as soon as possible."
CCC Plc opened its first branch in November 1998 in Batibo with about 40 members, but today can boost of fifteen (15) branches in four Regions including the North West, South West, Littoral and Centre.
According the Head of Marketing, Tingwe Robert, the introduction of new banking software known as Delta Bank has been one of the main achievements of CCC Plc that has made its services more reliable and has been increasing customer fidelity. This software he explained has centralized financial management thus reducing the turn-around time customers spent in the bank for any transactions. He reiterated the position of the Board chairman that prospects were encouraging that more branches shall be created in the days ahead.