TFF in the News
Cameroon's main opposition leader predicts doom for those wishing his death
June 2, 2014

There have been persistent rumors in Cameroon that the health of Ni John Fru Ndi Chairman of the Social Democratic Front (SDF), Cameroon's main opposition party, was failing. And that, he had become so desperate that he went to Nigerian Prophet T.B Joshua to seek for solace, failing which he had to be evacuated to the United States for medical attention. All these have turned out to be gossips.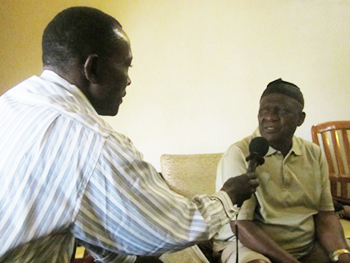 It was a robust Fru Ndi that I met at his Ntarikon residence, in Bamenda, in the North West English speaking Region of Cameroon and could not hold back my curiosity and so I first asked him where he has been all this while. This is his answer: "I went to America for the graduation of my daughter. She was graduating from the medical school of Georgia Atlanta and she specialized in pediatrics. She cried that she was a half orphan since the mother is dead and that if the father does not come she will stand there as a full orphan. So I had to do everything to go give her the backing. I know you journalists said I went to T.B Joshua and he said I was going die, so I was running to America. There are newspapers and people, when they see me even doze; they say Fru Ndi is dying. But for those people who spend their time hoping for Fru Ndi's death, I shall eat their own 'cry-die corn'."
Ni John Fru Ndi returned to the country just on time to join party comrades celebrate the 24th anniversary of the SDF, which he launched on May 26, 1990. He said the pomp and pageantry that characterized the anniversary manifestations was unprecedented in recent times; prove that "…the SDF was in the veins of the people." According to Ni John Fru Cameroon would have been far better today had the SDF taken over the management of this country. He prided that even then most changes in the country today were thanks to the SDF including a free press, revision of the electoral code and the institution of biometrics and the campaign to crackdown on corrupt public officials, "Operation epervier". According to the opposition leader, the ruling CPDM government way tapping from its party manifesto but could not properly implemented it.
Question whether recent visits by top government officials to his residence were a tacit recognition of his status as opposition leader Fru Ndi retorted: "So when they visit me, it becomes the leader of the opposition? The leader of the opposition should be recognized officially, constitutionally and given his rights, duties and responsibilities. But if by coming so that we share a cup of tea and eat a plate of ndole makes you think that my position is recognized, I will say no! Maybe, it is the beginning of our working together after considering me as a very wicked man, as a villain for many years…"
On the Boko Haram issue Fru Ndi condemned terrorism in all its forms and recommended dialogue.
Mokun Njouny Nelson