TFF in the News
BOOK REVIEW — The Patriot As Advocate of Genuine Change
December 5, 2014

A Review of Mokun Njouny Nelson's Book "The Cameroon of Tomorrow" which highlight the ideas of Dr. Christopher Fomunyoh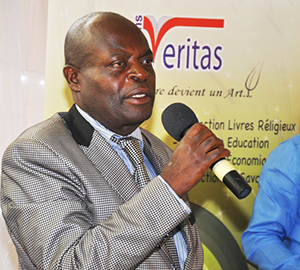 A great man is a living example to his acquaintances and of far greater importance within the society in which he belongs than a good book. But as the best of men are hardly ever known beyond his community, the author is therefore called upon to help spread that good example.
Christopher Fomunyoh is however, different from many great men in the sense that he was already well known thanks to his eloquence manifested during many media outings before a book was written highlighting his ideas: "The Cameroon of Tomorrow" which quotes Fomunyoh faithfully, reminds us of Nostradamus "The man who saw tomorrow" The different here is that while Nostradamus was a seer, Fomunyoh is a witness. The distinction between a seer and a witness is that the former processes mystic powers and can predict the future with astonishing accuracy, while the witness or rather prophetic witness analysis existing facts before predicting their outcome. Proof of Fomunyoh visionary attributes is the choice of time for the launch "The Cameroon of Tomorrow" i.e. the aftermath of an uprising in Burkina Faso which resulted in the overthrown of Blaise Campaore, one of Africa's longest serving dictators. A call on Biya to take another term in 2018, contained in a motion of support crafted during Biya's 32nd anniversary celebration, made such a launch even more relevant. Talk less of the overzealous CPDM MP in Fako who called on Biya to ensure he rules for another 32 years. If therefore I have the authority to propose a better title I would have renamed this book "The People's Cry" This because Biya's present mandate is predicted on a programme titled "The People's Call" in which is it's author "pleaded" with Biya to take another 7-year term in 2011. But since I haven't the authority I will leave the title as it is and proceed with my analysis of the book.
About the author
"He who humbles himself will be exalted and he who exalts himself will be humbled." I will substantiate this biblical adage with the example of Mokun Njouny Nelson. He does not at any point project himself as the author of the work. He is frank to the reader that "The Cameroon of Tomorrow" is a compendium of Dr. Christopher Fomunyoh's ideas. In other words, Fomunyoh is the muse, his source of inspiration. Proof of his sincerity is that the rest book is a faithful rendition of what Dr. Fomunyoh articulated to Cameroonian media with regards to the democratization process in the country. It can therefore be said without any fear of contradiction, that Mokun Njouny Nelson is the man-wife or mid-husband of "The Cameroon of Tomorrow".
It is common knowledge that the mid-wife is never invited for the "born house" of the baby he delivered. The reverse is true in the intellectual world. The mid-wife (editor) must be present during the launch (celebration) of Mokun Njouny's intellectual baby.
Dr. Fomunyoh; The Patriot
In his poem "The character of men" the celebrated Augustan poet, Pope, states that nobody is ever born a lover of money because he could be born where money does not exist.
Similarly, no man is ever born a lover of his country because a nation is a state distinguished from a state of nature. Only those with a solid educational background can understand the historical, social political and central factors that bind the people of that state. If we agree with the poet's view, then, Christopher Fomunyoh is a patriot of the first rank because, like Jeremiah who lamented the destruction of Jerusalem, he has sounded an alarm, a warning against the consequences of failing to organize free, fair and transparent elections in Cameroon.
He begins by acknowledging the importance of ELECAM – Cameroon's electoral watchdog, in the democratization process. Despite the fact that Biya started by appointing well-known CPDM stalwarts, Fomunyoh thinks it can still do a good job if the board of directors of ELECAM place the interest of the nation above parochial, partisan interests. He further suggests that Cameroonians be allowed unrestricted equal access to the public media and that all citizens of voting age are allowed to register.
He also calls into question the issues of "special constituencies" and suggests that these constituencies be restructured to be proportionate to the population. To him, nothing can be fairer than ensuring that everybody is properly registered, cards collected and voting take place on Election Day.
The Opposition
One other issue Fomunyoh addresses very well is the opposition. He regrets that many parties exist only on paper and many of them tend to hibernate only to surface around elections. Because of its fragmented nature, Fomunyoh laments that the Cameroonian opposition cannot effect change. He thinks that real change can take place only if a broader movement is formed which includes the civil society-human right groups, youth and women groups as well as community based organisation. He concedes that a viable opposition is essential to sustainable democracy, as this would ensure checks and balances.
Unfortunately, Cameroonian democrats are being eclipsed by "the excessive polarization of political parties and the system of material incentive that seems to guide citizen participation in politics in our country". Fomunyoh is soft toward the issue of the economy, recommending greater accountability in the management of resources and need to create a conducive atmosphere to attract foreign investors. He questions why only a single road links Douala, Cameroon's economic capital and the rest of the country endangering security and national cohesion. He is angered by the fact that the private sector remains underdeveloped.
But his greater worry is that Cameroon, which is endowed with a lot of economic potential as compared to other nations in the Africa Sub Region, has not used this advantage as a springboard to enhance its economic development. Cameroon should create conditions for the nation's entrepreneurs to emerge and proper.
A Senate That Lacks Legitimacy
While acknowledging that the constitution makes provision for a Senate, Fomunyoh takes exception to the manner in which the present Senators were chosen. First, the Senators were elected by municipal councillors, whose mandates had since expired. The election took place in 2013 when ELECAM was still registering people to vote for new councillors. The election of the Senators was therefore, an ambush of the Cameroonian electorate. Fomunyoh does not see an immediate need for a Senate, a Senate elected under questionable circumstances. He dismisses a comparison between the election of Senators in Cameroon and those of the U.S. In the U.S which has a population of 300 million people 600 times that of Cameroon, all 100 Senators are chosen by universal suffrage, whereas in Cameroon, 30 out of the same number are appointed by a president to whom the constitution has already given enormous (sweeping) powers. Fomunyoh postulates that given the questionable manner in which the Senatorial election was conducted, Biya should have simply appointed all 100 and save the state the enormous sums spent and the Cameroonian electorate the trouble.
Fomunyoh concludes by congratulating Senegalese president, Macky Sall who upon getting into office realized the futility of a Senate created under similar circumstances by his predecessors Abdoulaye Wade and scrapped it completely.
"Senegal's democracy hasn't lost a dent of its creditable" he states, categorically.
Paul Biya's election as president, he notes, has been equally controversial, Fomunyoh thinks that Biya should have organized credible elections and quit power if beaten. He equally thinks Diaspora Cameroonians who have manifested so much attachment to their community at home and Cameroon in general, can work closely with progressive minded compatriots at home to bring about meaningful change. He looks back with satisfaction at democratic transitions in Nigeria, South Africa, Ghana and Senegal and thinks Cameroon could join these select few on the democratic train.
The Anglophone Problem
In spite of his near perfect bilingualism, Dr. Fomunyoh has never forgotten that he is Anglophone by birth and upbringing. He, therefore, recognised the Anglophone problem, but chooses to approach it from a completely different angle. He is not in line with the victim mentality of the SCNC and other Anglophone pressure groups. To him Anglophones should stop complaining about the fact that certain ministerial portfolios are the preserve of Francophones and rather unite as well as fight to be in a position where they can influence such appointments. He cites the case of Ni John Fru Ndi who though an Anglophone of the North West extraction won the 1992 presidential election was voted not only by Anglophones, but also Francophones.
The Analyst And Medical Doctor Compared
Identifying and analyzing a problem is like detecting and diagnosing an illness. An analyst who examines facts, but fails to propose a solution to the problem he has analyzed is not different from a doctor who omits to prescribe a cure for the remedy he had diagnosed.
Chris Fomunyoh is a genuine intellectual because he is able to make concrete proposals to end Cameroon's democratic stalemate. He recommends the separation of the three powers –The Executive, Judiciary and Legislative.
He also recommends the reformation of security system established in the days of the Macquis. He also recommends the reinvigoration of public service, the empowerment of women as well as diplomats who should serve our country diligently so that we don't depend on lobbies on whom huge sums of money are squandered.
The book ends on a note of hope for Cameroonians and profound explanation as to why Fomunyoh didn't contest the 2011 Presidential Election: that the playing ground was not and has since then not been a level one. The preface and forward completes the pictures.
Peterkins Manyong
Publisher — The Independent Observer
Bamenda, Cameroon