TFF in the News
Bamenda SDF councils support Government Delegate's development projects
June 5, 2014

The 2013 Administrative Accounts of the Bamenda City Council has received a 100 per cent approval from the SDF-dominated grand councilors. The vote came during the first ordinary session of the council for the 2014 financial year.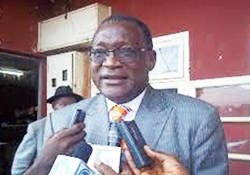 All 18 councilors unanimously voted the accounts as presented by the Government Delegate to the City Council, Vincent Nji Ndumu during the session that held at the Bamenda City Council Hall on Tuesday June 3rd, 2014.
The 2013 Administrative Accounts as present by the Government Delegate stood at 2,248,702,895 FCFA in revenue, and 1,978,413,654 FCFA expenditure with a positive carried forward in 2014 financial year of 270,289,241 FCFA.
In terms of budgetary performance, the following ratios were realized; 70,90% in terms of actual revenue collection, 86.99% of the recurrent expenditure against 72,21% in terms of overall expenditure and 51% of the 2013 capital investment against 72,21% in terms of overall expenditure.
It was based on these statistics that the SDF councilors who are usually very critical and hot-tempered joined their CPDM colleagues to approve the Government Delegate's presentation.
The deputy Senior Divisional Officer (SDO), for Mezam Ndoumbe Pierre Dika, who supervised deliberations, praised the secretary general of the Bamenda City Council, Nfome Fred Victor, for his meticulous presentation of the necessary documents deliberated upon. He however called on council authorities to redouble efforts at improving their revenue situation that witnessed a drop as against the 2013 fiscal year.
At the end of the session the Government Delegates revealed that the Ministry of Urban Development has disbursed 190 million FCFA to repair pot holes within the city and that the Ministry of Investment has also made available 650 million FCFA to carry out some urgent projects between 2014 and 2016. He said the grand councilors have also agreed to tar at least 2km of inner city road within each sub Divisional council.
On the horrible water crisis in the city of Bamenda he made known that government has already signed a contract of 8 billion FCFA to improve on the water supply situation within the city of Bamenda and its environs. This project is expected to go alongside a 15 billion contract that has been awarded to a Chinese company. He expressed confidence that water crisis in Bamenda will soon be history.
Nwan Mami Tangwi