TFF in the News
Renewal Of Political Leadership Is Good For Every Country - Fomunyoh
ICICEMAC
November 16, 2010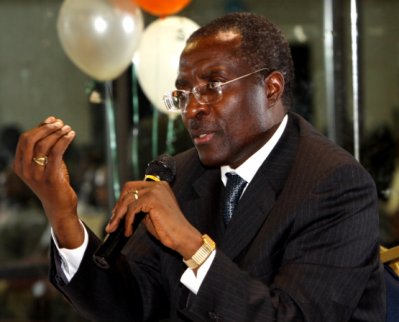 Senior Associate for Africa and Regional Director at the Washington-based National Democratic Institute, NDI, Dr. Christopher Fomunyoh, has said renewal of political leadership is a good thing for every country. "It is extremely important to frequently renew political leadership in every country so new leaders can bring a fresh perspective to global trends and developments, and help move their countries in ways that may differ from previously long held positions, " he said.

Dr. Fomunyoh, who is a respected voice regarding his work in democracy in Africa, was addressing politicians, lawyers, university dons, civil society actors and journalists at an interactive fireside forum organised by the Buea-based Centre for Human Rights and Democracy in Africa, CHRDA. CHRDA is a non-governmental organisation dedicated to the protection and advancement of human rights and the promotion of democracy as a political culture in Africa.

The forum, which had Dr. Fomunyoh as guest speaker, was part of the CHRDA's sensitisation campaign on human rights and democracy, according to its Founder, Barrister Felix Agbor Nkongho. Speaking on "Democracy in Africa, Challenges and Prospects," Dr. Fomunyoh identified lack of political will and citizen apathy as two factors working against the democratisation process in Africa.

"Those in whom the people have entrusted political power have abused it. The citizens have been down-beaten by the political elites that they have given up hope," Fomunyoh said, "people have lost faith in the electoral system," he added. Fomunyoh had quite a lot to say about democracy and leadership, hypothesizing that visionary leadership would do well for the democratic development of a nation, whereas poor leadership is an impediment to democracy.

He said the second generation of African leaders make "our forefathers who fought for independence turn in their graves." Dubbed as Mr. Africa by many African and International experts, Fomunyoh said in the case of Cameroon, the people are trying to build democracy on sandy soil, citing, for example, the fact that the Constitution provides the appointment by presidential decree of 30 percent of senators and that the senate elects the senate president to act in the absence of the Head of State.

Fomunyoh also said the continued appointment of government delegates undermines the purpose of elected officials (mayors), as well as the appointment of judicial officials all work towards impeding the democratic process in the country. Presidential succession that is not well defined in the constitution, is another impediment to democracy, says Fomunyoh.The NDI Regional Director traced Africa's walk in the democratic process; from a point where there was almost total dictatorship to a point where many African countries have truly embraced democracy and are enjoying its fruit. He cited the case of Ghana which is considered the model in Africa and has, within the last ten years, had three elections in which presidents that were defeated at elections gracefully conceded defeat.

However, he regretted that in 2008, seeds were sown in Cameroon for citizens to lose faith in the political process. According to him, when people lose faith in the democratisation process, they seek other means of getting political power. He also bemoaned the fact that Cameroon is rated poorly in terms of human rights, press freedom and governance, which to him negatively impact on investment decisions by foreigners. He, however, expressed optimism that citizens can still effect change through the ballot box without firing a shot if they stand up, register massively and vote.

As for women's access to leadership positions, Fomunyoh said political elites have no self-confidence to empower the women. He said there is need for progressive-minded men to create space for women and they (men) should be building coalitions with women. And in a country like Cameroon with diverse ethnic groups, Fomunyoh said it is incumbent on leadership to provide conducive environment for democracy to thrive.

"The moment we agree to be a nation-state, we should agree to make laws and create modern institutions that cut across the board to cater for the various ethnic groups so as to govern ourselves," said Fomunyoh. "We need commitment, political will," he added. Various participants expressed regret on the downward trend the country is going, blaming it on bureaucratic governance, ineffective laws and the overbearing arm of the executive that overrides the other arms of government.

They expressed their desire for a new leadership that can meet the aspirations of the people. One of the participants, the President of the Cameroon Bar Council, Barrister Eta Besong Jr., picked on the judiciary, and, quoting a ruling of the African Court, described judiciary as being far from independent. Mola Njoh Litumbe, Senior Citizen and retired Chattered Accountant, evoked the Southern Cameroon's problem, insisting that Anglophones have been poorly treated in the partnership with Francophone to build a state.

Among those who attended were the Southwest Secretary of the National Commission on Human Rights and Freedom, Chris Tambe Tiku; the President of the Cameroon Union of Journalists, Charly Ndi Chia; Executive Editor of The Post; Francis Wache; Executive Director of Africaphonie, Mwalimu George Ngwane; University of Buea Lecturer and Presidential hopeful, Dr. George Nyamndi.