TFF in the News
Obama to push Africa democracy on landmark visit
AFP
July 10, 2009
by Aminu Abubakar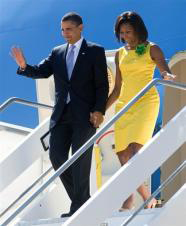 Obama will go from the G8 summit in Italy to press his message that Africa needs good governance and economic progress.
Copyright © 2009 AFP.
ACCRA (AFP) — Posters of Barack Obama festooned the streets of the Ghana capital on Thursday ahead of the first visit to sub-Saharan Africa by the first black US president.
Obama will go from the Group of Eight summit in Italy on Friday to press his message that conflict-tainted Africa needs good governance and economic progress.
During the 24 hour trip, Obama and his wife Michelle -- a descendent of African slaves -- will also tour Cape Coast Castle, one of Africa's biggest former slave trading posts.
His aides said the president wants to stress the interconnection between Africa and the rest of the world in the 21st century.
Obama picked Ghana for his maiden presidential venture into sub-Saharan Africa because it is one of the few success stories on the continent -- in terms of democracy and prosperity.
He will be the third consecutive US leader to travel to Ghana in under a decade. Historically, Ghana was also the first black African country to break free from its colonial shackles in 1957.
"It is a big honour that the first Afro-American president of the US is visiting the first black country to gain independence after the second world war," said Kwesi Jonah, of Ghana's Legon University.
Obama will speak to Ghana's parliament about democracy and development, but he wants the latest in his series of key foreign policy speeches to be heard in all of Africa.
"Millions of Africans across the continent are waiting to hear from President Obama on his vision and priorities in terms of US policy towards Africa," said Christopher Fomunyoh of the Washington-based National Democratic Institute (NDI) think tank.
Obama said he wanted to link the African trip with the G8 summit to show "that Africa is directly connected to our entire foreign policy approach; that it's not some isolated thing where once every term you go visit Africa for a while to check that box".
"But rather it's an ongoing part of a broader discussion about how we move many of these international challenges forward," he said in a recent interview with AllAfrica.com.
He said he chose Ghana because of its successive peaceful and successful elections.
President John Atta-Mills took office in January after one of the closest votes the country has seen -- winning by less than one percent of the vote.
Obama said he wants to endorse one of Africa's "successful models".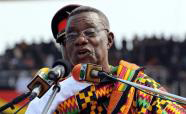 John Atta-Mills took office in January after one of the closest votes the country has seen.
Copyright © 2009 AFP.
"By travelling to Ghana, we hope to highlight the effective governance they have in place," he said.
Even though there has been progress in the past decade, there are still worrying trends with political crises leading to violent unrest in Kenya -- where Obama's father came from -- Zimbabwe and Madagascar.
Emmanuel Gyimah-Boadi of the Accra-based Centre for Democracy and Development said the visit is an "encouragement for the strides the country has been making in the last 15 years in terms of democratic development, institutionalising ...good governance and managing the economy".
"The choice of Ghana is most appropriate in recognition of the progress Ghana has made in economic development and political participation," said Fomunyoh.
Ghanaian officials hope the country of 23 million people will cash in on tourism and investment opportunities arising from Obama's visit.
Ghana expects the Obama's visit nudge many Americans of African descent to want to trace back their ancestral roots, particularly in Ghana from where most Africans slaves were shipped to the US and the Carribeans.
Formerly known as the Gold Coast, Ghana is best known for its cocoa and gold and also the home country of former UN secretary general Kofi Annan. Tourism is also a key earner.
The country expects next year to start commercial oil production.
"I hope Obama is not coming to Ghana because of our oil. The US always pays attention to where it has interest," said Raymond Akuley driving his taxi along Accra streets where the imposing large-than-life posters of Obama and Atta-Mills hang everywhere.