TFF in the News
Democracy in Nigeria Falters but Is Far From Dead
The New York Times
Lagos, Nigeria
May 3, 2007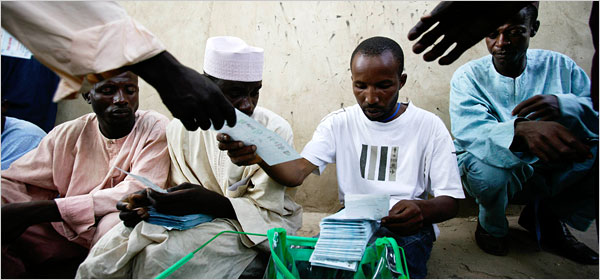 Workers from Nigeria's Independent National Election Commission sorted ballots in the presidential election on April 21 after the polls closed. Such a scene was rare, and reports of ballot rigging around the country were widespread.
LAGOS, Nigeria — Measured one way, Nigeria's democracy took a giant step backward in April. Its state and national elections displayed a disastrous mix of fraud and bungling, managing to be worse, by most accounts, than the seriously marred elections in 1999
and 2003.
Observers from the European Union said the elections were not credible; Nigerian observers demanded that they be canceled and held again.
The president-elect, Umaru Yar'Adua, faces an immediate "crisis of legitimacy," according to the Senate president, Ken Nnamani, a member of Mr. Yar'Adua's party. It is a feeling shared by many Nigerians and analysts, who worry that the country is teetering on the brink of catastrophe.
But judged another way, the test is only beginning: will Nigeria navigate the legal and political challenges to the election peacefully, in a way that cements rather than undermines its young democracy?
There are reasons to expect that it is better prepared to withstand the weeks ahead than analysts might think. "Elections do not a democracy make," said Chris Fomunyoh, director of Africa programs for the National Democratic Institute, a Washington-based pro-democracy group that works in Nigeria, among other countries.
While voting is an essential part, Mr. Fomunyoh said, it is only the first and in some ways the smallest part. As recent successful elections in long-suffering, war-torn African nations like Liberia and Congo demonstrate, organizing a transparent and credible election is possible, producing feel-good moments that the world cheers.
But building a functioning democracy is a very different task. Congo and Liberia, for example, are shattered nations with few meaningful institutions. Only time will tell if they will become true democracies in which the will of the people can be carried out.
Nigeria is much further along that road. Eight years into civilian government after a long spell of military dominance, Nigeria's institutions are blossoming despite the recent electoral chaos.
Last year the legislature rejected an attempt by the supporters of the incumbent president, Olusegun Obasanjo, to change the Constitution to allow him to run for a third term, despite considerable pressure from those in the political elite who felt the country was better off sticking with Mr. Obasanjo.
Many lawmakers had sectarian reasons for refusing. The unwritten rules, aimed at keeping the peace in a fractious, ethnically and religiously divided nation, dictate that the next president should be a Muslim from the north because Mr. Obasanjo is a Christian from the southwest. But whatever the legislature's motives, it forcefully asserted its independence.
The courts have shown similar independence. Mr. Obasanjo's bitter feud with his vice president, Atiku Abubakar, culminated in the president's allies' using corruption charges lodged by an administrative panel to bar Mr. Abubakar from running for president. But a last-minute Supreme Court ruling in his favor returned him to the ballot just before the election.
Nigeria's robust civic and religious groups, driven underground by military rule, have blossomed into watchdogs, freely criticizing and even condemning the government's handling of the election.
The country's cacophonous news media deployed armies of correspondents across 36 states to bring back reports of stuffed ballot boxes, intimidated voters and phony results.
And a cellphone explosion allowed for text messages among poll observers, voters and political parties, making instances of rigging and intimidation in far-flung polling places almost impossible to hide.
"There are certain elements of the evolution of democracy that are moving forward" in Nigeria, said Madeleine K. Albright, the former secretary of state, who led a team of observers from the National Democratic Institute. "The electoral element is not."
But others are, in ways that are unusually robust on a continent struggling for examples of peaceful multiparty rule, Ms. Albright said, and those developments cannot be easily undone in two terrible election days.
It has become apparent that the governing People's Democratic Party simply seized the apparatus of democracy — ballots, boxes, ink and tally sheets — and rigged its way to victory in a number of places. But the sweeping victories will be challenged in the courts of law and the court of public opinion.