TFF in the News
President Zelenskyy's Chief of Staff, Andriy Yermak, welcomes leading African ambassadors to the International Coordination Group for Prevention of Hunger (ICGPH)
January, 2023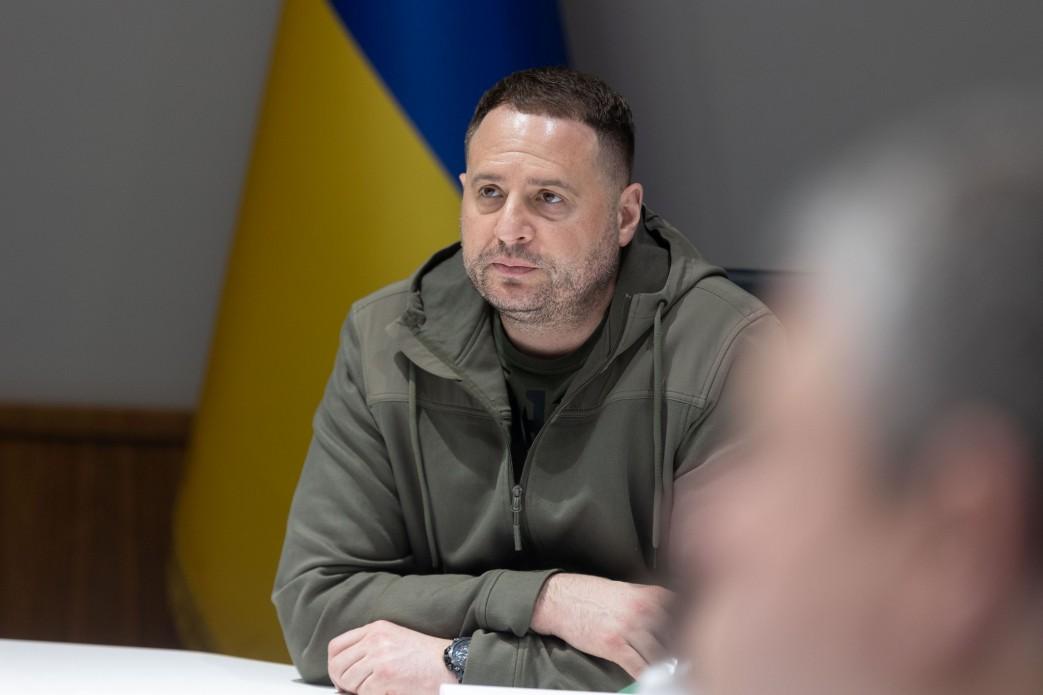 The ICGPH is the latest initiative from President Zelenskyy's 'Grain from Ukraine' programme
The Group's mission is to influence the provision of food needs of millions of people and build international support for the Ukrainian agricultural industry
ICGPH meeting attended by high-level 'Grain from Ukraine' African ambassadors, including Former President of Malawi
Priorities for Group are to create evidence-based approach, with measurable and tangible results
Kyiv, Ukraine - January 25, 2023: Andriy Yermak, Chief of Staff and Head of Presidential Office of President of Ukraine, has welcomed leading African ambassadors to the International Coordination Group for Prevention of Hunger (ICGPH) in Kyiv.
The ICGPH has been established to directly influence the provision of food to millions of starving people whilst building international support for the Ukrainian agricultural industry.
The Group, an initiative from President Volodymyr Zelenskyy's 'Grain from Ukraine' humanitarian programme, aims to protect cultivated areas, maintain production, and strengthen food supply chains. As part of its mandate, the Group will also work with the Ukrainian government to source international customers who can guarantee the purchase of the country's agricultural products.
In his opening remarks, Andriy Yermak, Chief of Staff and Head of Presidential Office of President of Ukraine, said: "We welcome our African leaders and allies to the ICGPH and their support to President Zelenskky's "Grain from Ukraine" programme. In times of heightened food insecurity and global inflation, Ukraine stands strong and willing to support vulnerable nations on the brink of starvation across the African continent."
"We see the prospect of expanding the project. To do this, we need reliable partners with local knowledge and extensive connections."
Yermak added: "As part of our commitment to Africa, the Ukrainian government will also look to strengthen its diplomatic relations with the continent and advance the delivery of President Zelenskyy's vision for a more prosperous and sustainable future for its people."
The Grain from Ukraine initiative was launched in November by President Zelenskyy at a Global Food Security Summit in Kyiv, attended by Ursula von der Leyen, President of the European Commission, Emmanuel Macron, the President of France, Olaf Scholz, the German Chancellor, UN Secretary-General António Guterres, and the prime ministers of Poland, Lithuania, Romania, Belgium, as well as the president of Hungary.
The fourth vessel under the Grain From Ukraine programme has just departed from the port of Chornomorsk, heading for Ethiopia which has been ravaged by famine. The vessel is carrying another 30,000 tons of Ukrainian wheat. Another three ships have already delivered 80,000 tons of wheat from Ukraine to Ethiopia and Somalia.
The meeting with Mr Yermak last week was attended by a number of high-level African delegates and political leaders who have agreed to operate as ambassadors to the 'Grain from Ukraine' initiative.
Among them is former President of Malawi, Dr. Joyce Banda, who is currently active in a number of international organisations, including being a committee member of the AU African Women Leaders Network, an organization initiated and formed by UNWOMEN in 2017. She is also a board member of The Tana Forum for Peace and Security in Africa, and The Club de Madrid, a global organisation of former heads of state and government with headquarters in Madrid, Spain.
The second ambassador of Grain from Ukraine is Dr. Oby Ezekwesili, former Minister of Education of Nigeria and former Vice President of the World Bank, who is currently a Senior Advisor at the Africa Economic Development Policy Initiative, Founder of SPPG- School of Politics, Policy and Governance and President of Human Capital Africa.
The initiative was also joined by Dr. Christopher Fomunyoh, Senior Associate for Africa and Regional Director at the National Democratic Institute (USA), who has led international election observation missions and managed democracy support programs in many countries on the African continent.
Joyce Banda said that she was proud to join the Grain from Ukraine initiative. "We really need to support and help those countries affected by the Russian-Ukrainian war," she said, noting that with grain shortages due to Russian aggression, many families find it difficult to buy the necessary food. The former President of Malawi also expressed her support for Ukraine and the Ukrainian people and declared her readiness to participate in projects that will help end this war.
Oby Ezekwesili noted Ukraine's active and effective initiatives to combat the food crisis not only on the African continent, but also around the world.
"We are talking about millions of people around the world who will receive this support. These people will suffer if they don't have food on their table," she said, adding that 62 million people in Africa suffer from food insecurity for one reason or another. "This initiative should therefore support the continent's support longer term policy measures for increasing investment and raising agriculture productivity. That's why we and the world really consider Ukraine as a country that, despite the war, is doing such important things to help ensure food security," she added.
Dr. Christopher Fomunyoh stated that he and other experts together have the desire and intention to help overcome the food crisis and work for the benefit of Africa. "I reaffirm my commitment to working with you to achieve results. Our hearts are full of sympathy for the people of Ukraine. We would like to express our respect to President Zelenskyy, the government and people of Ukraine for fighting the threat of annexation despite all the difficulties and setting an example for the rest of the world," he said.
According to Mr Yermak, since the launch of the Grain from Ukraine program in November 2022, more than 30 donor countries have joined the program. These are the EU countries, Qatar, Türkiye, Japan, Norway, Korea, Canada and the United States. So far, participants have pledged nearly $200 million.
"The goal is to provide grain to at least 5 million people by the end of this spring, and this is just the beginning of a global humanitarian corridor for countries facing the threat of famine. It is because of Russia that the famine is happening," said Andriy Yermak.
The Head of the Presidential Office noted that Russia has attacked not only Ukraine but is also trying to destroy the rules-based international system via the artificial deepening of the energy crisis in Europe, nuclear blackmail and jeopardising food security for dozens of countries.
"The terrorist country put pressure on various states and blackmailed them with the threat of famine. This led not only to an increase in food prices, but also to social and political consequences in many countries," stated Yermak.
Before the full-scale Russian invasion, Yermak said that Ukraine's share in the global grain trade was 10%. Ukraine was the 4th largest grain exporter in the world, ahead of all EU member states, and provided the UN World Food Program with about 40% of wheat for countries experiencing serious food shortages.
Russia's malign influence in Africa has grown at an alarming rate in recent years, with reports of Moscow taking control of gold and diamond mines in impoverished nations, providing weapons and surveillance to questionable regimes and contributing to human rights abuses against civilians.
Putin has long sought to strengthen the Kremlin's influence on the continent, attempting to shore up alliances forged decades ago when the Soviet Union supported some movements fighting to end colonial rule.
The extent of its African influence operations was laid bare last March, when 25 African countries either abstained or declined to vote on the UN resolution to condemn Russia's invasion of Ukraine.
Dr. Christopher Fomunyoh
Président, The Fomunyoh Foundation
christopher.fomunyoh@tffcam.org
www.tffcam.org