TFF in the News
PRESS RELEASE
The Fomunyoh Foundation (TFF) Announces Prof. Mrs. Elizabeth Tamajong as New Executive Director
August, 2022
FOR IMMEDIATE RELEASE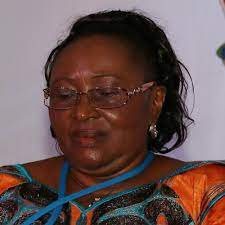 The Fomunyoh Foundation (TFF) is pleased to announce the appointment of Prof. Mrs. Elizabeth Tamajong as the new Executive Director in Cameroon. Prof. Mrs. Elizabeth Tamajong who has served as a volunteer Senior Adviser in past years, assumes the new position with a wealth of both academic and professional experience.
As the new Executive Director, Prof. Tamajong will provide operational leadership to advance TFF's objectives in Cameroon. She will also design and implement programs and activities in furtherance of the Foundation's core objectives which include humanitarian interventions, and the support of charitable causes, democracy and human rights. These responsibilities require strong leadership, management and communication skills, especially during these challenging times in the country.
Prof. Mrs. Tamajong brings over 30 years of solid professional experience gained from a variety of senior positions within academia, public service and non-governmental organizations. Among her many accomplishments, Prof. Mrs. Tamajong who currently serves as the Vice Chancellor of the Yaounde International School, was former Deputy Vice Chancellor for Academic Affairs for ICT University, USA, Cameroon Campus, was the former Director of the National Centre for Education of the Cameroon Ministry of Scientific Research and Innovation. She holds the grade of Chief Research officer, Directeur de Recherche, which is the highest grade equivalent to University Professor. She taught in universities of Yaounde I, ICT universities and supervised many masters and PhD thesis. She is presently the Secretary General of Women's Academy for Africa, and, for many years, Secretary General of the Social Democratic Front (SDF) - the first woman to occupy that lead position in a major political party in Cameroon. Prof. Mrs. Tamajong has published numerous articles and book chapters in peer reviewed publications, with most of her research focusing on education, human rights and women's leadership. In 2021, Prof. Elizabeth Tamajong was awarded the prestigious 'Best Researcher in Educational Management' award by the Ministry of Scientific Research and Innovation; and in 2019, she received the 'Life Time Achievement Award' for outstanding achievement in research and science from ICT Foundation, based in Louisiana, USA.
In her spare time, Prof. Mrs. Tamajong has served as a resource person for International Organizations such as the Friedrich Ebert Foundation and the Westminster Foundation for Development, donating generously of her strong academic and political skills to conduct orientations and workshops for Members of Parliament, leaders of political parties as well as mayors and local councilors in various countries in the Central Africa Region. Prof. Mrs. Tamajong has also served on several international elections observation missions conducted by the Commonwealth and the National Democratic Institute (NDI) in Nigeria and Ghana.
Her appointment as TFF Executive Director in Cameroon plans to widen its operations and develop new strategies to cope with the catastrophic conflict, humanitarian and human rights crises in Cameroon.
According to TFF founder and President, Dr. Christopher Fomunyoh, "Her first order of business will be to coordinate an Ad hoc committee to review TFF's medium and long term goals, and make recommendations to enhance its effectiveness in-country." The 11 person ad hoc committee will comprise: Dr. Etah Ewane, Ms. Evelyne Metuge, Mr. Jean Genestar Priso, Ms. Jacqueline Ikollo-Ndoumbe, Dr. Sehou Ahmadou, Dr. Djibrilla Siddiki, Ms. Maximillienne Ngo Mbe, Mr. Paul Yamga, Fridrick Tanjoh, Ms. Grace Sil, and Mr. Philip Ndi.
"TFF Cameroon is extremely fortunate to have Prof. Mrs. Elizabeth Tamajong at its helm as Executive Director. She brings an impeccable reputation for hard work, dedication and passion for causes she believes in. The Foundation, its partners and the country as a whole will benefit tremendously from her leadership and sense of purpose," stated Dr. Christopher Fomunyoh.
For Prof. Mrs. Elizabeth Tamajong, "I'm honoured by the invitation to serve TFF in this new capacity. I have great admiration for the visionary leadership and commitment of the Foundation and its founder and president, Dr. Christopher Fomunyoh, to our people and humanity as a whole, and I hope to foster the goals and impact of the Foundation in the years ahead."
About TFF:
The Fomunyoh Foundation (TFF) is a non-profit organisation founded in 1999 by Dr. Christopher Fomunyoh and a dedicated group of persons and advocates in the international democracy community.
We partner with philanthropists and democratic and human rights constituencies within Cameroon, as well as internationally, to improve the well-being of Cameroonian people and strengthen institutions and human rights in Cameroon.
For more information about TFF, visit: https://www.tffcam.org
Bamenda, 4th August, 2022
CONTACT: Nelson Njouny Mokun
Email: njounelson@yahoo.com
Tel: 677 578 879
Dr. Christopher Fomunyoh
Président, The Fomunyoh Foundation
christopher.fomunyoh@tffcam.org
www.tffcam.org