TFF in the News
Dr Christopher Fomunyoh Makes Strong Case For Southern Cameroons

He has recommended Negotiation Between Cameroon Government And Non-State Actors.
Speaking as a witness in the Canadian House of Common?s Subcommittee on International Human Rights of the Standing Committee on Foreign Affairs and International Development, the National Democratic Institute for International Affairs, Senior Associate and Regional Director West and Central Africa, Dr Christopher Fomonyuh went back to the root causes of the four-year-old armed conflict blaming majority French Cameroon government for aggravating it by bad faith efforts to assimilate Anglophone minority into Francophone majority.
He expressed three main Worries namely:
a) Government?s inclination to use military and brute force to resolve legitimate political grievances of Anglophones.
b) Continuous poisoning of minds because of killings and atrocities perpetrated in former British Southern Cameroons.
c) Lukewarm attitude of international community beyond a few declarations and now resolution 684 of US Senate.
He argued that Canada is in a unique position to contribute to an end to the armed conflict that addresses root causes, mutually respectful relationship across Africa and with European countries that it could leverage and galvanise to help end the conflict.
Call for immediate ceasefire and cessation of hostilities and public commitment by the government of Cameroon and Non-State Actors to negotiations with third-party facilitation.
Use good offices to engage France to leverage position to get the government commit to peace negotiation to bring an end to and address root causes.
Adopt targeted sanctions against perpetrators of torture and other atrocities.
Use Canada?s position on multilateral organisations to ensure that resources granted to Cameroon for development purposes are not diverted to prosecute the war against the Anglophone minority.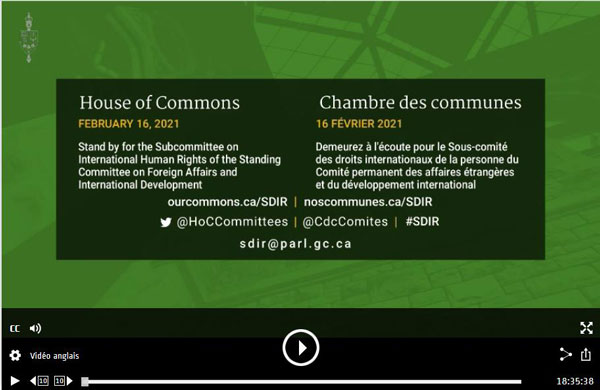 Cameroon News Agency | CNA