TFF in the News
Relief and Hope: The Fomunyoh Foundation Gifts IDPs in Kumba
July, 2021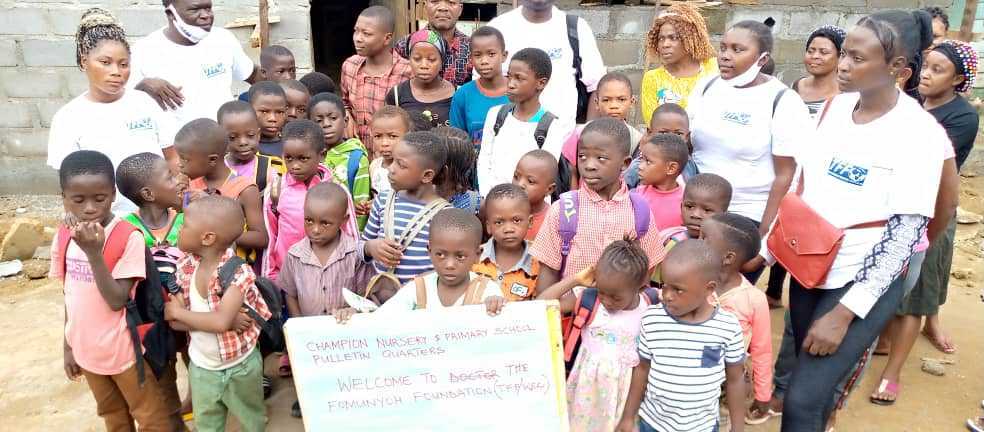 The Fomunyoh Foundation, TFF has in its humanitarian nature offered out relief items to Internally Displaced Persons, IDPs resident in Kumba.This was on Tuesday July 20, 2021. Under the project, Relief and Hope, TFF reached out to over one hundred IDP school going kids who are now resident in Kumba with food stuffs and a message of hope. As these kids escape from the smoky barrels and ?stray bullets?, leaving the comfort of their homes to ?strange homes?, the zeal to be educated keeps burning in them. It is in this light that TFF team after their need based assessment prioritized IDP and vulnerable kids of two primary schools plus their families to support them with relief items.
The Champion Nursery and Primary School, Metta Quarter, Kumba, which hosts underprivileged kids with unknown whereabouts of their parents and the Ephatta Institute of the Deaf, with a four-decade history of training children with hearing and speech impairment through primary education were TFF?s beneficiary community.
The foundation equally made a stopover at home hosting IDPs where donations of household materials were made.
Filled with joy and satisfaction, one of the beneficiaries rained words of blessings to the benefactor, Dr Christopher Fomunyoh, prophesying that he will never lack for touching their lives when they were in dire need.
Hope Relief Project is a benevolent outreach project of TFF which aims at reaching out to some 500 families of IDPs and the underprivileged in the South West Region of Cameroon.
It should be recalled that in in April 2021, TFF visited Cameroonian refugees in Nigeria fleeing the four-year protracted crisis with relief items to tthousands of ?forgotten? Cameroonians in neighbouring Nigeria. It is on record that, TFF in partnership with Community Refugee Relief Initiative, CRRI were the first humanitarian outfits to pay a visit to Cameroonian refugees since March 2020.
Wifah Jennyhans
Dr. Christopher Fomunyoh
Président, The Fomunyoh Foundation
christopher.fomunyoh@tffcam.org
www.tffcam.org