TFF in the News
PWD Bamenda a.k.a "Abakwa Boys" latest signing
June 13, 2016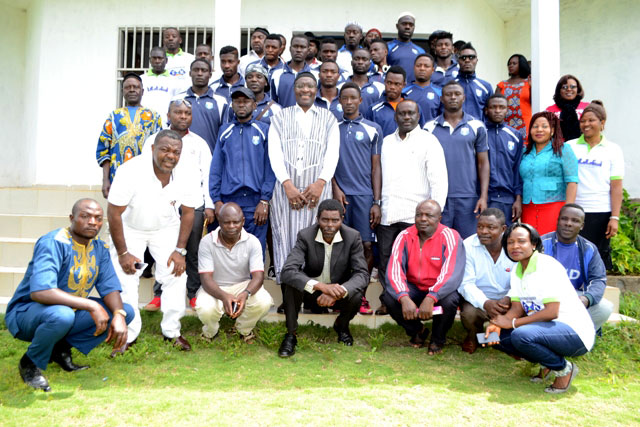 It was an emotional moment between the legendary team of the North West Region of Cameroon and Dr. Chris Fomunyoh who was handed Jersy No.28.
Passionate supporters of the club who turned out at the premises of The Fomunyoh Foundation (TFF), on Sunday June 12, listened with keen interest as Dr. Boyo Charles narrated the ordeals the club was going through in the Cameroon National Elite Two Championship. From transportation difficulties, through the payment of match bonuses to the inadequate performances of some of the players, Dr. Boyo Charles, who is one of the collegiate of three heading the club, said the catch of Dr. Chris Fomunyoh may just go a long way to salvage PWD Bamenda from relegation into the inferior Regional League.
Dr. Chris Fomunyoh then narrated with mastery the romance he has had with the club that spans over forty years. From his days at the University of Yaounde where he was the brain and pioneer President of the PWD Bamenda supporters club, and his mobilization for the 1979 Cameroon cup match against Dynamo of Douala where the "Abakwa Boys" lost 1-2 under controversial circumstances under the watchful eye of Cameroon's first president Ahmadou Ahidjo, he listed with a stunning maestro the players that made the hay days of "P-TONTON, Ngia P"; goal keeper Agwa, Nji Sunday, Maranga, Njowo Louise, Mukube, Dr.Ekwe. Ben Bola, Kometa, Ayukeba…..His final wish; that the club be given a reincarnation. And how can this be possible?
And this may have been the surprise of the day, the management of the team saw no other player than Dr. Chris Fomunyoh who signed in and handed Jersy Number 28. And immediately he started his game. Dr. Fomunyoh handed a financial package to the players of the team to take care of some of their urgent needs and another to the team's management to handle some of the challenges being encountered. That was just the beginning he assured while advising players, management and supporters of the club to note that "Your talent determines what you can do. Your motivation determines how much you are willing to do. Your attitude determines how well you do it."
Dr. Christopher Fomunyoh is the President of The Fomunyoh Foundation - www.tffcam.org, with headquarters in Bamenda Cameroon.