TFF in the News
Address presented by Mokun Njouny Nelson station manager Foundation Radio on the occasion of the contact visit of the north west regional delegate for communication this day Wednesday January 14, 2015
January 18, 2015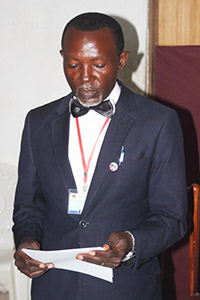 It is to me a singular pleasure to welcome you to the premises of The Fomunyoh Foundation in general and Foundation Radio in particular.
It is true that you are here specifically because of Foundation Radio, but in Africa one always ask to know the father of a child. We, I mean Foundation Radio happens to be the first child of The Fomunyoh Foundation.
The Fomunyoh Foundation, Mr, Regional Delegate, is a non-profit organization founded in 1999 by Dr. Christopher Fomunyoh and a dedicated group of Cameroonians and advocates in the international democracy community. It partners with philanthropists, democratic and human rights constituencies within Cameroon, as well as internationally, to improve the well-being of Cameroonian people and strengthen institutions and human rights in Cameroon.
Other components of the Foundation include - Foundation Health Awareness Unit, Foundation Conference Hall, Foundation Arts and Design, Foundation Library, Foundation Museum, a Child play Centre, and ICT Centre and of course the Foundation Radio – FM 100.
The mission of Foundation Radio if not different from that assigned to us by our profession and the state; educate inform and entertain, raise citizen awareness and to positively impact their wellbeing while meeting the interests of the surrounding underserved communities. As a result our programs cut across to meet the aspirations of all strata of the society.
It will please you, Mr. Delegate to know that we have fulfilled over 90% of requirements need for us to be granted an operating license. We understand administration is slow, steady and patient. We have also opted to be patient. In any case we want to acknowledge the administration's tolerance that has allowed us like other stations to operate on a standby and under-study basis.
It should also please you, to know that because we respect Republican laws we pay our taxes regularly.
Unfortunately, adverts are slow to come and even when it comes clients would not pay the standard rates. Some administrative services and decentralized collectivities feels don't even want to pay for their announcement on grounds that it is a public service. We also render a public service and need money to function.
As a result we cannot substantially take care of our staff, a situation that leads to staff instability, as they will always want to seek for greener pastures. We have staff strength eleven (11) permanent staff; 6 journalists, 2 technicians, a commercial secretary, outreach officer and one in charge of logistics. We also benefit from the services of five external collaborators.
I know in the private sector, staff will always complain of salary arrears; we do our best to pay the minimum we have accepted and so as of now we do not owe any staff a franc as salary arrears.
Our cry remains the same that government aid to the audio-visual media be more substantial.
The financial worries aside, having access to information from state institutions is a bone to crack. Your colleague delegates treat us with scorn. They would hardly respond to request for interview or complementary information. Public or private media we serve the same purpose and audience. So our plea is that you plead with your staff on detachment to other delegations as communication officers to open up o us. Kick-back or "gombo" aside we would cover an event just for information sake. That is our mission.
As for projects, our final ambition is to create a Television Station that would principally reflect the realities of the North West Region. We hope to benefit all your support when we shall come knocking on your door with this project.
Accept New Year wishes from Dr. Christopher Fomunyoh, the Chairman of the Board of Directors of The Fomunyoh Foundation, promoters of Foundation Radio. On my personal behalf and on behalf of the Foundation Radio family, I wish you and your entourage the best in 2015.
Mokun Njouny Nelson
Station Manager