TFF in the News
The Fomunyoh Foundation (TFF) donates books to schools
May 19, 2014

The donation ceremony that held on Monday May 19, 2014 took place at the head office of The Fomunyoh Foundation (TFF) situated at Mile 6 Ngomham, Mankon Bamenda headquarters of the North West Region of Cameroon.
The consignment of over 600 books was offered to 21 Nursery and Primary Schools within the Bamenda 1, 11 and 111 council areas.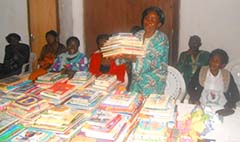 While welcoming the representatives of the beneficiary schools, the station manager of Foundation Radio, Mokun Njouny Nelson, who was sitting in for Administrator of the Foundation, Winifred Weregwe, explained that the gesture was just a fulfillment of one of the objectives of The Foundation. "We consider you, dear educators as partners because the education our children receive today determines the future of this nation tomorrow, whether in terms of its democratic evolution, respect of human rights, perception of corrupt practices, civic responsibility…" Mokun Njouny Nelson made it clear that The Fomunyoh Foundation(TFF) was of the opinion that "the one best way to inculcate all these values in our children is to rekindle in them a reading culture, because knowledge is found and stored on books not in bottles of beer."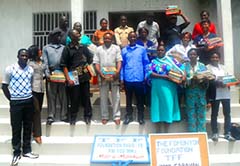 He expressed the fervent wish that the books should serve the purpose for which they are meant because according to him "the future of this country now depends on a different culture, not in us but in our children."
For their part, the representatives of the schools took turns to laud the initiative of the promoters of The Fomunyoh Foundation (TFF) that some of them thought could only come from "foreigners". "Blessed is he who gives for more shall be given", they called on God to replenish the source of such largesse. The unanimously agreed to partner with the Foundation in its people-oriented endeavors.
The brief but event-packed ceremony end with a tour of the various services of Fomunyoh Foundation(TFF) that were being put in place, followed by a group picture.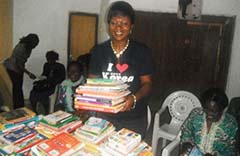 The Fomunyoh Foundation is a non-profit organization founded in 1999 by Dr. Christopher Fomunyoh and a dedicated group of Cameroonians and advocates in the international democracy community. It partners with philanthropists, democratic and human rights constituencies within Cameroon, as well as internationally, to improve the well-being of Cameroonian people and strengthen institutions and human rights in Cameroon.
Other components of the Foundation include — Foundation Health Awareness Unit, Foundation Conference Hall, Foundation Arts and Design, Foundation Library, Foundation Museum, a Child play Centre and of course the Foundation Radio — FM 100. Some of these components are not yet fully operational, but groundwork is far advanced to see these functional in the days ahead.
Nwan Tangwei