TFF in the News
The Fomunyoh Foundation Child Play Unit and Children Library now operational
December 19, 2014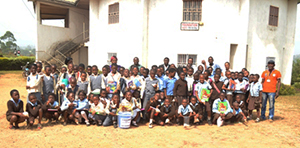 Christmas Candle Lighting at TFF
See more photos
Both centres were opened to the public during a Christmas candle lighting ceremony that was held at The Fomunyoh Foundation – TFF head office in Bamenda, in the North West Region of Cameroon, on Tuesday December 16, 2014.
To grace the occasion two schools: County Bilingual Nursery and Primary School and Alfred Saker Bilingual Nursery and Primary School, all of the city of Bamenda, were invited.
They competed in games including: egg race, sack race, eating competition, basketball throw and brain trust. County Bilingual emerged the winner.
The programme was broadcast live over Foundation Radio.
The authorities of the schools were very elated and called on the authorities of TFF to make it a yearly event.