TFF in the News
Sit-tight African leaders: Where Biya beats them all
November 11, 2014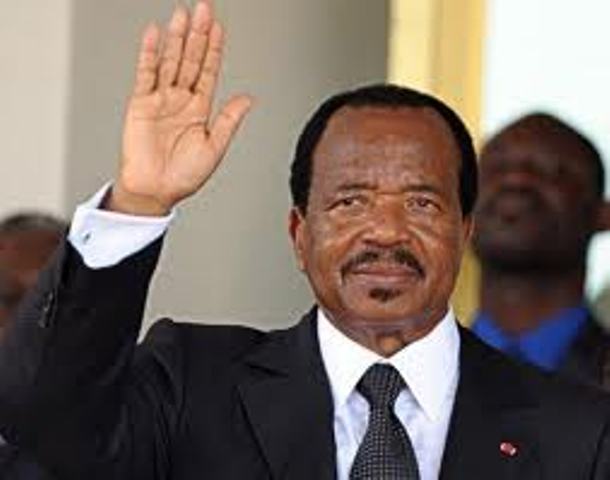 "History is repetitive and sometimes fails to make sense." By this remark, Irish poet, W.B. Yeats means that human beings who found themselves in the same circumstances react in much the same manner even if these reactions are silly. Hungry people in every nation at every time would go on the rampage as it happened during the French Revolution of 1789.
A few weeks ago, the people of Burkina Faso, one of Cameroon's neighbours, went haywire, burnt their house of assembly and forced into exile Blaise Campaore their sit-tight dictator for 27 years. The news of the event stirred waves of excitement in oppressed peoples in Africa and worldwide.
Cameroonian opposition supporters and critics of President Biya's 32-year old regime jubilated, these doomsayers are firmly convinced that Biya will soon be sent packing. That unfortunately is a wrong conviction. Burkina Faso is unlike Cameroon in several ways.
First, the country is poor and like in the case of France in 1789, its people are hungry, hungrier than Cameroonians. We all know that apart from being an angry person, a hungry man has no manners. Poverty, not money as Jimmy Cliff wrongly asserts, is the root of all evil. Soame Jenyns tells us in his treatise: "A Free Enquiry in the Origin and Nature of Evil" that no amount of charity can rescue somebody in the bracket or quagmire of poverty.
Similarly, no nation that relies predominantly on foreign aid like most countries in sub Saharan Africa can cater for the economic and gastronomical needs of its people (Burkina Faso, Niger etc). Besides having reasonably enough to eat, Cameroonians have since the days of Amadou Ahidjo been converted into diehard disciples of Bacchus the Greek god of wine.
The conditions to set up an off-license are easier than any other business. Late Charles Ateba Eyene was not exaggerating when he wrote in 2012 that the beer Cameroonians consume could be the equivalence of a river.
Biya was also wise enough to grant Cameroonians free speech including a relatively free press; a thing the likes of Theodore Obiang Nguema of Equatorial Guinea are yet to do. In Equatorial Guinea, there is no private news organ, but in Cameroon, there are not only hundreds of them, government subsidises the majority of them; even if the amount is just peanuts.
"The Talking Cure" as prescribed by Sigmund Freud, is the best way out of stress. By assuring that Cameroonians don't need to go underground to express their views, Biya has convinced his most acerbic critics that he is a democrat.
The president is reported to travel with copies of newspapers, which insult and cartoon him most and challenges those who accuse him as a dictator to go to Cameroon and find out if any of the publishers of these newspapers had been arrested or killed. The president and supporters are rather proud than ashamed that Biya is "the most insulted head of state in the world".
Paul Biya is also a past master in the art of diversion. Besides beer and football, the president successfully diverts the attention of Cameroonians not only through high profile arrests on charges of corruption but also through real or imaginary wars with external enemies.
The Bakassi conflict with Nigeria and the ongoing war with Boko Haram are excellent examples. This is the strategy used by the regime of "Big Brother" in George Orwell's book "Nineteen-Eighty Four".
In Orwell's world, there are only three nations: Oceania (Big Brother's country), Eurasia and Eustacia. To divert the attention of Oceanians, the government propaganda machine feeds the population with news or rumours of war. Following such propaganda, Oceania is always at war with one of its neighbours.
Biya as expert in preventive politics the vulgar notion that "Prevention is better than cure" is better implemented by Biya than any of his fellow African leaders.
The youth agitations in 2008 in five of the country's ten regions is suspected to have been part of a government ploy to prevent a general uprising in the event of a constitutional amendment that ended presidential term limits stipulated by the 1996 constitution.
What Blaise Campaore wanted to implement before he was overthrown had already been wisely planned and executed in 2008. Those who foresee a similar uprising against Biya are residents of wonderland who thrive on the principle of comforting self-deception.
Even before the upsurge of the Arab Spring in 2012, Biya had tactfully held talks with a neutralized John Fru Ndi, his ferocious and previously implacable challenger of the 90s. The Mountain (Biya) moved to meet Mohammed (Fru Ndi) in 2010 when it became apparent that the latter couldn't meet him in Yaounde because of obstacles on both sides.
"Cameroon is Cameroon" or "The Impossible is not Cameroonian" is not only a slogan; it is a stark reality. Biya understands Cameroonians probably more than any of his African counterparts understand their citizens. That is why he can predict their actions with mathematical precision and accurac.
For instance, President Biya told his French counterpart in the aftermath of the French Franc devaluation in 1993 that a planned salary slash would not spark a conflagration and it didn't. Cameroon is one of those countries where peace can still reign in the face of blatant injustice perpetuated by a corrupt judiciary. It is only in Cameroon that peace can reign following a 70% salary slash in the aftermath of a devastating devaluation.
It is therefore, no surprise that Gabon's late dictator, Omer Bongo, said if he were to return to the world after death, the country he would best love to rule is Cameroon. Let us not bother about the fact that he thinks he was created or can be resurrected only in the capacity of a president. What is relevant is his confirmation that Cameroonians are a far more easily-manipulated people than any other including Gabon which Bongo ruled for upwards of four decades.
Whatever human rights activists may say, Cameroonians deserve some recommendation for upholding Chinua Achebe's view that it is sometimes good to be a coward for "We sometimes stand in the compound of a coward and point at where a brave man once lived". War is easy to start but difficult to end as countries that have been plunged into civil war would admit.
Nigerians who lived the horrible years of the Biafra instigated secessionist war of 1976 tell whoever seeks their opinion that the most corrupt civilian dictatorial regime is preferable to the most liberal military regime. This is not a defence of Biya's dictatorship: it is a socio-political fact.
Peterkins Manyong