TFF in the News
Moghomo Fons unite for development, want Division
March 20, 2014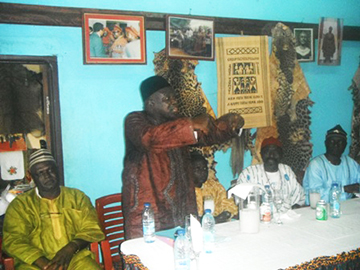 Fons of Moghomo in Batibo sub division in the North West Region of Cameroon have resolved to give their locality a new facelift. This resolution was taken during a meeting of the Moghamo Fons union that held at the Ngenmuwah Fons palace on Saturday March 15.
The meeting was chaired by the president of the Moghamo Fons union, Fon Enyong Richard Fomba of Enyoh. Fon Enyong called on the fons should lead by example by being united amongst themselves. This way he assured their subjects would also act in unity and ensure the long desired development of Moghamo.
For his part, the host, Senator Fon Teche Njei of Ngenmuwah, said the coming together of all the 22 villages of moghamo into one development union was just a matter of common sense given that they had one origin and history. He expressed regret that all the other sub divisions created alongside the Batibo sub division in 1969 including; Fontem, Ngoketunjia and Boyo were now full Divisions. To Senator Fon Teche Njei it was time for sons and daughters of Moghamo to put political opinion aside in order to constitute a strong lobby so that they get a Division.
It was thus agreed that the Moghamo cultural and development association be revived and five man committee was set up to oversee its realization. It shall be headed by Bah Njeko Jacob.