TFF in the News
Ma Esther Asob Fomunyoh laid to rest
April 17, 2013

She is the mother of Dr. Christopher Fomunyoh, Senior Associate and Regional Director for Central and West Africa at the Washington-based National Democratic Institute, NDI and promoter of the Fomunyoh Foundation.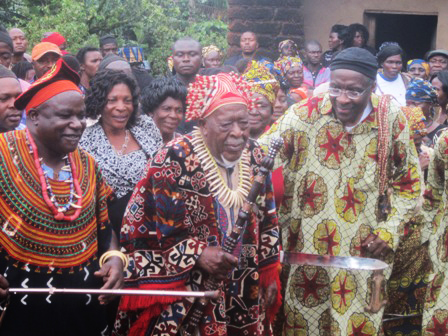 Dr. Chris (right) leads traditional leaders in folkloric dance rite.
"Everything that happens in this world happens at the time God chooses…" This was the maxim that was used to comfort children, relations, friends and well wishers of Mama Esther Asob Fomunyoh, who came from all over the world to give her a befitting burial in her Awom village in Guzang Batibo Sub Division in the North West Region of Cameroon.
Mama Esther died March 31, 2014 in Douala after a protracted illness. She was laid to rest on Monday April 14th, 2014 after a church service that took place at Presbyterian Church Awom where she served as an elder for close to a decade. The service was led by a college of pastors that included Rev. Agwetang Emmanuel, Rev. Darah Charles and Rev. Agbor Jacob.
On behalf of the family Dr. Christopher Fomunyoh amidst sobs, described their mother as "humble, intelligent and visionary."
The funeral ceremony was highly attended by traditional rulers and administrative authorities led by the Divisional Officer for Batibo.
Anderson Akoh
Foundation Radio