TFF in the News
Cameroon: TFF and St. Mary Hospital Bamenda offer free Health Services
December 9, 2014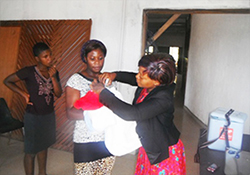 The Health Awareness Unit of The Fomunyoh Foundation, TFF, has partnered with the St. Mary Hospital in Bamenda, North West Region of Cameroon to offer free health services to the population.
According to a memorandum of understanding, TFF offers its premises for free to the St. Mary Hospital to carry out routine vaccination and weighing of children 0-5 years and shall also work together to organise health awareness talks on sensitive health concerns.
During a working session between at the TFF head office in Bamenda, North West Region of Cameroon, Mokun Njouny Nelson representing TFF, emphasised that the board of directors of the non-profit-making organisation was forever ready to sacrifice for the good of humanity.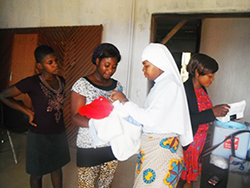 For their part, Martin Akwa, the General Supervisor of the St Mary Hospital and Sister Doris Konyuy expressed deep satisfaction with the gesture and magnanimity of the promoters of TFF.
The first exercise took place on Saturday, December 6, 2014 with the weighing and vaccination of children against the wild poliovirus.
The Fomunyoh Foundation (TFF) is a non-profit organization founded in 1999 by Dr. Christopher Fomunyoh and a dedicated group of Cameroonians and international democracy advocates. It supports charitable causes and also assists individuals and movements working for democracy and human rights in the Republic of Cameroon.