TFF in the News
Celebrated Church Minister Predicts Change in Cameroon
June 3, 2014

A Rev. Minister has predicted change in Cameroon. The Rev. Mosy Madugba made the revelation during a visit to The Fomunyoh Foundation during which he granted an exclusive interview to Foundation Radio.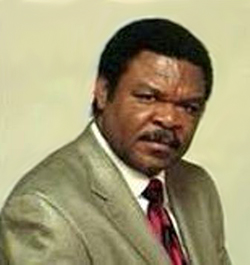 The Nigerian-born renowned evangelist was in Bamenda in the North West Region of Cameroon to minister at a Revival Activation Conference.
In an interview with Foundation Radio, the man of God said that his presence in Cameroon was not by chance but by God's design. This is his prediction for Cameroon: "I had in my spirit that God said he will open the taps; he will open the heavens over Cameroon from the month of May. It was at that point that I changed my agenda and put Bamenda this time and Yaounde in November this year. They were never part of my itinerary for this year. So I believe that during and after this meeting there will be supernatural encounters and manifestations that will begin to happen both in the city Bamenda, the North West Region and the entire Cameroon as a result of the activated season of open heavens."
Rev. Mosy Madugba revealed that wherever God sent him that place had never been the same thereafter. He cited the cases of Ghana where he predicted the discovery of oil, Australia where he prayed and the heavens opened for rains after a long drought and how Jamaica was saved from a catastrophic hurricane when God directed him there.
However, he gave the following conditions if Cameroon and Cameroonians really wanted to benefit from this God's blessing: "When God comes to visit a people they must wake up and receive him. When God came to visit Jerusalem in Luke 19 and they did not, Jesus wept over Jerusalem and said how I wish in this your day, you recognize it and then open the gates and let the King of Glory come in. But because you did not, he said you have missed it and the consequence is that both your sons and your buildings will be destroyed and there will be no one stone left on another. I pray that the elders of the land, the minister, the functionaries, will recognize this season of the Lord, so that it wouldn't pass them by. I know generations, cities, countries who missed theirs and they sought with tears like Esau for the blessing and never got any. I pray that everybody will wake up this time and then connect with God and activate this season and revival over Cameroon, so that this land will be a shining star in Central Africa, that other Nations will be flying to Cameroon to collect the fire of God."
Rev. Mosy Madugba is the international head coordinator of the Ministers Prayer Network, a global Apostolic and Prophetic Network of Christians in church, political, economic, academic and social leadership position in over seventy countries around the world.
Mokun Njouny Nelson