TFF in the News
TFF publicly displays its services at NGO Fair
February 23, 2012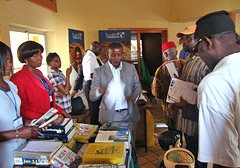 Director of ICT educating visitors to the stand about his dept
From the 22nd to the 23rd of February 2012, The Fomunyoh Foundation TFF was part of the first ever organized Non Governmental Organisation Fair in Cameroon, North West region. Holding on the Bamenda Congress Hall, the two day come together was an event for TFF to display its products to visitors, network and exchange resources with other NGOs and CSOs present.
Bringing together some 60 NGOs from in and out of the North West Region, the NGO fair was aimed at promoting corporate social responsibility among business through philanthropy put together a civil society organization directory for CSOs and Local government, increase net working among NGOs, and promote volunteerism among youths and increase networking among NGOs and CSOs.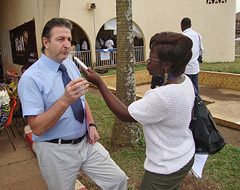 Interviewing Dario Gentili, country director VSO Cameroon
Being an NGO as well, TFF show case its different departments and services offered plus products; Foundation Library (FL), Foundation Radio (FR), ICT department supported by the Cat Digital Network (CDN), Foundation Clinic (still in the pipeline), and other related information to the multitudes who visited TFF stand. The visit to TFF stand and to the others was led by Guy Joseph, the North West Regional Governor's representative who presided at the event.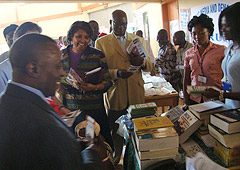 Guy Joseph visits TFF stand
The two day fair was also characterized by panels. One of the main speakers at the pannels was the Executive Secretary of the Cameroon teachers Trade Union, CATTU, Simon Nkwenti, a Civil Society Activist, who educated farmers on their role as CSOs. Other iformation participants gathered was on how to generate income for their organizations, tools of strengthening NGOs among others.
The NGO Fair is a brain child of the US Peace Corps with Dr. Lahoma Smith Romocki as Country Director Cameroon, Voluntary Service Overseas (VSO) with Dario Gentili as Country Director Cameroon, with collaboration from NWADO, the North West Association of Development Organisation.