TFF in the News
Ghana gears up for 2nd alternate power handover in 10 years
AFP Global Edition
January 4, 2009
by Susan Njanji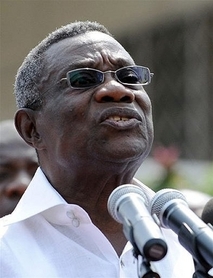 AFP - President-elect John Atta-Mills addresses party supporters at the opposition National Democratic Congress .
ACCRA, Jan 4, 2009 (AFP) - Ghana is consolidating its democratic credentials as, for the second time in a decade, one elected leader prepares to hand over power to the opposition following a peaceful presidential poll.
Opposition candidate John Atta-Mills on Saturday narrowly won the presidential race, with less than half a percentage point between him and the ruling party's aspirant Nana Akufo-Addo.
"By next week, Ghana will be experiencing its second peaceful alternation of power from one political party to another in a decade, a move that will surely consolidate the country's democratic transition and its nascent institutions," said Chris Fomunyoh, of Washington-based National Democratic Institute (NDI).
The first time power swapped hands peacefully was in 2000, when former military leader turned democratic ruler Jerry Rawlings handed over to Kufuor after an eight-year stint as elected president.
Akufo-Addo of the New Patriotic Party (NPP) acknowleged his rival's victory and congratulated him.
Atta-Mills, a law professor, was running for president for the third time; he lost the previous two elections to outgoing President John Kufuor, who will handover the mantle to him on Wednesday.
The elections were Ghana's fifth since a return to multi-party democracy in 1992 and will mark the second time power has changed hands alternately, a step taking the west African nation to new democratic heights.
"Hopefully, Ghana will continue to serve as a democratic role model for other African countries along with Benin, Botswana, Mali, Mauritius and South Africa," NDI's Fomunyoh said.
Ghana, a country of 23.5 million people, is best known as a major gold and cocoa producer. Next year it plans to start pumping oil discovered offshore.
It is seen as a beacon of democracy on a generally troubled continent.
The losing candidate, an accomplished lawyer, has vowed to go to court to seek redress over results from one contested region, but the move is unlikely to stall the planned handover of power next week.
"It is to the credit of the NPP that it is taking its grievances to court. That's what election tribunals are for," said NDI's Fomunyoh.
"In many other African countries, a single grievance in such a close election would have sparked violence and loss of life and property," he added.
Theodore Dzeble, of the Coalition of Domestic Election Observers (CODEO) commented that Akufo-Addo was sufficiently astute to realise that if he wanted to run in the next elections he had to concede defeat gracefully or lose voters next time round.
"If it was in other countries, people would not be mobilising ballot papers (as evidence for litigation), but weapons," said Emmanuel Gyimah-Boadi of Ghana's Centre for Democratic Development (CDD).
A year ago, Kenya, then still one of east Africa's most respected democracies, was engulfed in ethnic violence shortly after the disputed re-election of President Mwai Kibaki.
At least 1,500 people were killed and more than 300,000 fled their homes in the wake of the December 27, 2007 polls.
In southern Africa, a Zimbabwean opposition candidate won a first round presidential vote in March, 2007, that would have ousted longtime leader Robert Mugabe who has been in power for nearly three decades. But he did not win with enough votes to avoid a run-off.
Morgan Tsvangirai later pulled out of a runoff after a deadly campaign of violence, which he accused Mugabe's party of orchestrating.