TFF in the News
The TFF - Johns Hopkins University Partnership
Since 2004, Johns Hopkins University's School of Advanced International Studies (SAIS) in Washington has collaborated with TFF in connecting graduate school students anxious to gain work experience on international development projects with TFF, which has benefited from their varied contributions and ideas. In the past five years, TFF Cameroon has hosted SAIS graduate students from the Caribbean, Germany, the Netherlands, and the United States. Here are some of the SAIS students and graduates who have worked with us in Bamenda:
Henrik Bläute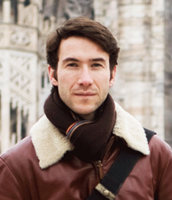 Henrik Bläute worked with TFF in summer 2009. He is a Masters Degree candidate at the Johns Hopkins University SAIS Bologna Centre in Italy, where he is studying international development and international economics. Prior to graduate school, Henrik worked as a consultant and as Assistant to the Managing Director in Europe and the USA. He also interned with the United Nations Office on Drugs and Crime. Henrik holds a Bachelor in Business Administration from the International University in Germany, Bruchsal.
Morgan Bushey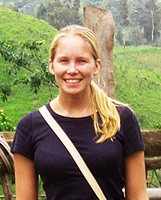 Morgan Bushey, who worked with TFF in 2006, now works at the Federal Reserve Bank of New York, where she is focused on learning about the role of the financial sector in economic development in hopes of returning to Africa to work on macroeconomic stability and financial sector reform projects. During the summer of 2006, Ms. Bushey and Nikki Duncan worked with TFF staff to set up an organizational and programmatic structure for TFF. They met with numerous local community organizations to gauge how TFF could best fill gaps in community development programs and to determine which organizations would benefit most greatly from TFF technical and financial assistance. They taught capacity-building workshops to local nongovernmental organizations on how to better mobilize their members, focus their missions and make an impact in their communities. They traveled to local villages to raise awareness of HIV/AIDS and did an analysis of the public education system to create a national scholarship program in hopes of giving more Cameroonian children access to education.
"I found my internship with TFF to be enlightening, educational and life-changing. I still keep in touch with dozens of wonderful Cameroonians whom I met while working in Bamenda, and I remain in awe of their energy, sincerity and determination. I did my best to help TFF evolve into an effective, focused organization, although I often think that TFF and its staff had a much greater impact on me than I did on them. The experience gave me first-hand exposure to the nuts and bolts of international development and invaluable insight into the human dimension of development work. Following my internship at TFF, I returned to SAIS better able to contribute to theoretical discussions on development, having gained practical experience in the field." —Morgan Bushey
Nikki Duncan

Nikki Duncan, who also worked with TFF in 2006, is a Staff Consultant for AECOM International Development, a global economic and infrastructure development firm promoting higher living standards in emerging markets, through the provision of high-quality, technical advisory services to governments and the private sector. Ms. Duncan's assignments focus on trade-related technical advisory services to African economies. She also supports several community-based development projects and proposals in places such as Senegal and Rwanda. At SAIS, she studied international economics and international development, with a geographic focus on Africa. In addition to Cameroon, she has worked in Botswana, Kyrgyz Republic, Liberia, Mali, Rwanda, Senegal and Swaziland.
"I gained hands-on, grassroots, community-development experience working directly with both nascent and well-established community-based organizations in Bamenda. I improved on my organizational development training skills focusing on a wide range of general themes from strategic planning, communications, organizational structure and management. I also had the opportunity to use some of the skills I obtained from my job prior to SAIS working at a public health consulting firm by facilitating a community dialogue on HIV/AIDS in Batibo." —Nikki Duncan
Angela Stephens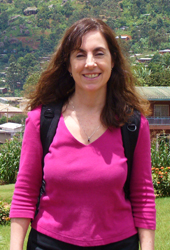 Angela Stephens worked with TFF in 2007, before completing a Master of International Public Policy at SAIS. She is now the Development Outreach and Communications Officer with the U.S. Agency for International Development's Office of Sudan Programs, based in Washington. A former journalist, Ms. Stephens helped the TFF Foundation Radio staff develop radio programming and learn digital audio editing.

"The TFF staff are incredibly dedicated to improving the lives of Cameroonians. It was inspiring for me to collaborate with such optimistic colleagues. Working together to launch and improve Foundation Radio, we not only met Cameroonians of all walks of life who told us their stories and informed their fellow citizens, we accomplished something it took all of us working together to do." —Angela Stephens
Lisette Planken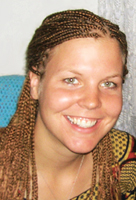 Lisette Planken worked with TFF in 2007 after her first year of study at Johns Hopkins University's School of Advanced International Studies (SAIS). Her interest in international development was inspired by her extensive travels as an Olympic athlete during a 10-year diving career. Ms. Planken provided technical assistance and training to the full-time staff who run the radio station. She also contributed to designing and producing creative radio programs for broadcast and putting administrative systems in place that have equipped the local staff to better manage the radio station. She is originally from the Netherlands and speaks Dutch, English and some German and French.