TFF in the News
Cameroonians Expect ELECAM To Do The Right Thing - Dr. Chris Fomunyoh
By Francis Wache & Ernest Sumelong
February, 2009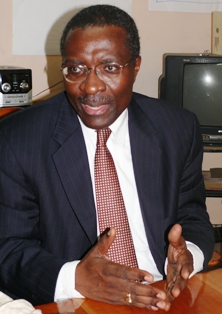 Dr. Chris Fomunyoh works for the Washington-based National Democratic Institute for International Affairs, NDI. The Harvard-trained Fomunyoh, dubbed "Mister Africa" by the Western media, serves as a Senior Associate for Africa and NDI's Regional Director. He criss-crosses the African continent, monitoring elections and working for the promotion and strenghtening of democratic institutions.

Fomunyoh was recently in Cameroon and granted this exclusive interview to The Post in which he talks about his missions in Africa, the plight of the Cameroonian youth, the appointments into ELECAM, what Cameroon can do to better its democratic process. And more. Excerpts:
The Post: Dr. Chris Fomunyoh, what brings you to Cameroon?
Dr. Fomunyoh: You know this is the Youth Week when we celebrate the Cameroonian youth. My coming here , now, therefore, is to mark my solidarity with the young people. It is also an opportunity for me to visit friends and family.
You will agree that the future of the youth is rather bleak. what message of hope do you have for them?
I can understand what is going on in the mind of most of our young men and women. If you look at the unemployment rate, it is very high. We have many young Cameroonians who have graduated from academic institutions and do not have jobs and others who wish to go out for further studies and do not have the means to do so.
Look at the other African countries that have gone through rural transformation, where economic developments are taking hold and where political institutions function; these have provided youth the opportunity to better their lives. My message to young people is that we have to find a way pick up our lives. We have to find a way to hook to a private sector activity because that is what is happening across the world.
The impression you give is that you empathize with the youth. What have you done, concretely, for them since you got back to the country?
Since I came, I have visited children in a private high school in Douala. I was so touched by what I saw in that school. This is a school launched by a Cameroonian who has taken time to provide such a special opportunity to young Cameroonians. I was so impressed that the kids sang the Cameroon national anthem in both English and French. When I talked to them, they made me feel that, so long as we continue to motivate our young people and help them find a role model, they have talents that can be harnessed and that the future holds the best.
In 2004, it was widely rumoured that you were a presidential candidate. Can you confirm this?
Well, I never made any declaration to that effect. A lot of people talked about it and I thank them for thinking about me along those lines. I remember one interview I granted a radio station in Douala in which I said that, in my present capacity, I could not become involved in partisan politics and, that, if I were to come home and get involved in partisan politics, I would first have to resign from my position.
After the 2004 Presidential elections, you have stayed away from Cameroon. What have you been up to?
Well, I have not been away from Cameroon. I might not have visited with The Post but I was in the country last year. I make it a point of duty to be in the country as often as possible. It is very important to be informed about the realities of my county, the issues ordinary Cameroonians live through on a daily basis. I make it a point to come to Cameroon all the time.
While you have been vocal about election issues around the African continent, you have been eloquently silent about Cameroon. We haven't heard you commenting that much about Cameroonian events…
Most of the declarations that I have made have always been on the gound in countries in which we have programmes. On certain developments that are ongoing, whether we are training political parties or building the capacities of civil society organisations in monitoring elections, when I am called upon to make declarations, I usually centre my declarations around those developments.
Now, because NDI has not been actively involved in Cameroon, it does not provide me the kind of opportunity in which I have had to talk about elections in Zimbabwe or Ghana and other countries. My hope is that, at the appropriate time, when there is an opportunity for NDI to get involved in Cameroon, then, that would provide an opportunity, too, to make recommendations to the people of Cameroon.
That would be based on the experiences of other African countries on how to take advantage of their experiences and improve on our situation.
Considering your wealth of experience, what would you like to see done in Cameroon to better the status of the youth and improve on the electoral process?
I think we must guruantee the professional development of the youth because, truly speaking, they are leaders of the future. We are just coming from an experience in the United States where they elected a young and dynamic 46-year-old African-American as President. He is a young man compared to other Presidents. My hope is that that could be a source of inspiration, especially because of his African heritage. The youth play a vital role and what we make our young people today would determine the dividends that we would reap tomorrow.
My hope is that the government should put in place a system which provides opportunities for the youth. The young people are not asking for favours; they are asking for opportunities that can allow them to show their best talents. I know the capability of the Cameroonian youth if we have a system that is open, free and fair, where young people feel that they are treated equally, irrespective of their place of origin; where they feel that they are rewarded with regards to their performance.
I think we should find a way of developing more political will and consesus around the conduct of elections in Cameroon. Ultimately, only credible elections can give confidence to Cameroonians that, those in power have the respect that is coming from citizens. Credible elections can only come from a free and transparent electoral process which gives everybody a fair share to have the citizens make their voices heard.
I believe you have heard of the recent appointments into ELECAM; what is your take on that?
Well, I followed the recent comments and I was struck by the level of polarised debate on the make up of ELECAM. I also understand why the issues are constantly being raised. One of the things I said, for example, is that, if the presidential decree that appointed the members appointed ten members from any of the opposition parties, the UPC, the SDF or the UDC, there would have been an uproar from the ruling party.
So, we are living in an environmment where partisan politics is still strong. In such circumstances, I think the burden now rests on these individuals who have been appointed, who have been given the responsibility to run elections in our country. They are a known quantity and they have to know that Cameroonians expect them to do the right thing.
I think that, with the structure already in place, we have to put the reponsibility where it lies: on the members of the Board and the Director General, so that they can organise credible elections.
You have monitored quite a good number of elections recently; what are those lessons you have learnt that can enhance the democratic process in other African countries.
There is a long list of recommendations that could be made of best practices that can be relevant to African countries. There is need for political will at the top as well as the national level for elections to be credible. I will give you the example of Ghana, where the then incumbent President, John Kuffour, publicly declared that he wanted to make sure that the elections were transparent, free and fair.
Secondly, there has to be an elections administration body. Whether it is called ELECAM or an independent elections commission, as in some countries, they should be professional enough not to be seen as partisan so as to make such that the administration of the electoral process wins the confidence of all- the contestants as well as the electorates.
Then, the people - candidates and electorates - have to have equal access to the public media. Are the various candidates and their parties treated the same? Do the electorates have enough information about all the candidates? Are all the citizens of voting age able to register to vote? Are special structures put in place to facilitate the registration process or are some people being shut out of the registration process? Those are few of the things that have helped some African countries to achieve free and fair elections.
Considering the wealth of experience you have gathered while serving the NDI across Africa, do we see you coming back to Cameroon and taking active part in the economic and political life of this country?
I would want to say that, as someone who loves his fatherland and as someone whose roots are deeply imbeded in the culture of our people, you always want to make sure that your country stands for the best. If you look at other African countries across the board, you will see countries that are doing well, you will see countries that are making successful democratic transitions - Ghana, Benin, Mali and even South Africa, which, a few years ago, was under the apartheid regime.
If you look at those countries, as a proud Cameroonian, you ask yourself why not Cameroon? You ask yourself what you can do to make your own country move forward. I know that Cameroonians expect that some of us who have been fortunate enough to be exposed to other experiences should bring those experiences forth and enrich the lives of fellow citizens.
The womanfolk in Cameroon constitutes quite a considerable portion of the population. Yet, you can't say that they have been given a fair deal. What do you think can be done, particularly, to enhance their participation in the country's political life?
One of the things that I think our generation has to walk towards is to provide equal opportunities to women. In a number of countries, NDI has worked with all the political parties to make sure that they set aside provisions to encourage women's participation.
In Senegal, for instance, NDI and all the Senegalese political parties negotiated an agreement, which has commitments from all the parties to say that, for local elections, about 30 percent of the seats be reserved for women candidates.
That led to thousands of Senegalese women being elected into office. When women get positions at the council and regional level, it will increase their participation and give them experience in leadership not only at the grassroots level but at the national level. That is what I hope should happen in Cameroon.
Is there anything that can be done, and done promptly, to improve on our democratic process?
Yes. First of all, Cameroonians must wake to the fact that nothing would be given to them on a platter of gold. I think Cameroonians need to be more active and orderly in their expectations because, if the citizenry is not active, the officials would not feel bound to report back to those who elected them into office. We need vibrant political parties. Political parties serve as channels for citizens' opinions in policy-making.
I think we should get out of the situation we have right now with over 100 political parties registered in Cameroon as if there are a hundred ways of addressing poverty alleviation and health care etc. Our political leaders should come, once in a while, and address what the big issues are and organise political parties to mean something to the Cameroonian people. Whether at the level of Parliament or at the level of the Executive Branch, we need committed and true democrats. We cannot make democracy without true and committed democrats.
With all these exciting ideas that you are propagating, what really keeps you from coming back to Cameroon and joining the other patriotic Cameroonians who are engaged in this fight?
Well, for over two decades, I have been working on the motivation of the African continent and this continent has been my focus. I take pride each time an African country does well; whether it is Cameroon or another country. Ultimately, as we all know, home is home.
One would expect that, one of these days, you would come back and make your contribution to the democratic struggle…
Well, people who know me well and those who knew me right from my birth through my secondary school to high school days and even my days at the University of Yaounde, know my attachment to my country. And they know that, under the right circumstances, I would look for ways to make my contribution.