TFF in the News
Independent Electoral Commissions Strengthen Democracy in Africa

By Jim Fisher-Thompson

May 14, 2009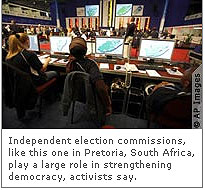 Washington — Independent electoral commissions help African nations provide a level playing field during elections while building a foundation for the sustainability of democracy on the continent, democracy activists say.
David Shinn, former U.S. ambassador to Ethiopia (1996–1999) and Burkina Faso (1987–1990), said Africa's democratic record has been mixed in recent decades, with periods of progress sometimes interrupted by flawed elections. "One of the encouraging developments is the growing willingness of the African Union and subregional organizations to condemn setbacks to the electoral process," he said.
Despite challenges, Shinn told America.gov, "African governments and voting populations increasingly are emphasizing the importance of elections as part of their efforts to strengthen democracy." This month's election in South Africa is an example, he said.
Shinn, who is currently an adjunct professor at George Washington University's Elliot School of International Affairs, said, "I cannot stress too strongly the importance of having a professional and totally independent national electoral commission.
"There is nothing easy about conducting a free and fair election in Africa — or any other part of the world, for that matter," he added. "But it is imperative to have a professional, well-staffed and independent electoral commission to establish election procedures, monitor the process and ensure a fair hearing of complaints."
Ambassador Johnnie Carson, assistant secretary of state for African affairs, told an April 29 Senate hearing that "democracy is a process, not an event," explaining that free and fair elections must become politically sustainable.
During the past decade, he said, "the greatest progress [in Africa] has been made in the area of democracy and governance. The two most recent examples of this are to be found in Ghana and South Africa," thanks in part to strong electoral watchdog institutions.
AMERICAN NONGOVERNMENTAL GROUPS HELP MONITOR AFRICAN ELECTIONS
Almami Cyllah, regional director for Africa programs at the International Foundation for Electoral Systems (IFES), an independent, nongovernmental organization (NGO) that receives some U.S. government funding for democracy training in Africa, said the United States is making "a remarkable commitment" to providing long-term election assistance in Africa.
For example, Cyllah told America.gov, the U.S. Agency for International Development has pledged $17.5 million for election training and support to Liberia over the next five years. It "is an extraordinary show of long-term support to democratization in Africa," said Cyllah, who is from Sierra Leone.
Cyllah said if other nations also contribute to this commitment, "this will have a huge impact on the development of democracy in Africa."
Cyllah said much of the U.S. funding will go to buttress the work of African electoral commissions, "an indispensable institution in any election. Where you have strong, credible electoral commissions, you usually have strong, credible elections."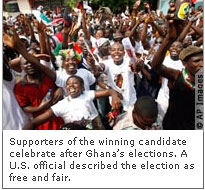 Ghana is an example of how an electoral commission can be effective in a hotly contested presidential contest, Cyllah said. The commission, which helped monitor the December 2008 election, "had earned credibility and independence through its hard work. The sitting president cannot fire its head. It has become truly independent, and that is a major reason why democracy is such a success in Ghana."
By strengthening electoral commissions, Cyllah said, "we help build the institutional capacity and political will to manage elections. Over time, we have built a cadre of more than 1,500 democracy and governance experts capable of addressing almost any election situation."
Other programs IFES has conducted with electoral commissions in Africa include these:
• Technical assistance to Angola's fledgling National Electoral Commission (CNE) for its 2008 elections, the first held in 16 years.
• Strengthening Guinea's Independent National Electoral Commission (CENI), aimed at strengthening commissioners' operational capacity and commitment to electoral integrity on the national and local levels.
• Assistance to Nigeria's Independent National Electoral Commission (INEC) for its 2007 elections.
• Working with the Malawi Election Commission (MEC) in the period leading up to the nation's 2009 elections to develop a voter education and voter information campaign and detailed operational plan.
• Partnering with the African Union (AU) on a newly established Democracy and Electoral Assistance Unit (DEAU) aimed at supporting national electoral commissions by creating a pool of trained election monitoring experts.
Chris Fomunyoh, regional director for Central and West Africa at the National Democratic Institute, another NGO that promotes democracy in Africa, helped train election monitors and workers in Ghana before the election. He said, "Many independent observers would credit the success of the last [Ghanaian] election to the independence, impartiality, professionalism of the Independent Election Commission of Ghana."
Fomunyoh said civil society groups also play an important role in the election process. "Their involvement supports the credibility of electoral commissions that perform well because their [commissions'] findings can be verified, making it easier for everyone to accept the election's outcome — and that's what happened in Ghana."
The electoral commission process also played an essential role in South Africa's recent election, according to Tebogo Kola, the South African Embassy's first secretary for public diplomacy.
Kola told America.gov, "The election proceeded very well and lived up to our high expectations," due in part to the work of the Independent Electoral Commission (IEC), which served as a watchdog and referee over the voting process.
"The IEC is very important because it doesn't belong to any political party but lays down the rules for all parties and candidates, thus ensuring a free and fair election," he explained.
The involvement of American and other NGOs "gave us South Africans confidence to know that just 15 years after our democratic dispensation we could hold a free and fair election" and "be a beacon for democracy on the continent," Kola said.