TFF in the News
Dr Chris Fomunyoh. A Cameroonian-born Apostle of Democracy.
Success Story No. 005 - January 2008
March 18, 2008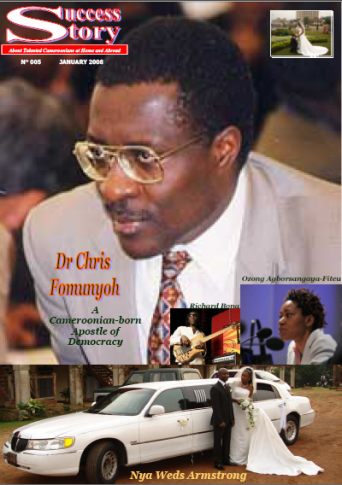 Click here to print or download the complete January issue of Success Story in PDF format (4.32 MB)
PEACE !
Cheers, Dear Readers! 2008 brings peace, hope and joy to all hardworking Cameroonians.
Our hearts are warmed by your encouraging letters and suggestions. We expect more as we continue to publish your favourite E-Magazine.
In the midst of conflicts and violence in Africa, Cameroon is blessed and privileged to be a land of Peace. Peace, a treasure that all must endeavour to keep as we strive for sustainable development. Together, like our dear indomitable lions, we will score victories against all sufferings linked to underdevelopment.
Despite progress in several countries, we watch with concern the difficulties still faced by some African countries to achieve democratic governance. Kenya is just another addition to the existing cases. For this issue, we rush to Washington DC to get hold of two Cameroonianborn success stories who have been working tirelessly for almost two decades in the areas of democratic governance and conflict management in Africa. Dr. Chris Fomunyoh is the Regional Director for Central and West Africa at the National Democratic Institute for International Affairs in Washington DC, while Ms. Ozong Agborsangaya-Fiteu is the Senior Program Manager for Africa at Freedom House in Washington DC. Both have contributed significantly to transition in some African countries.
We also praise another hardworking Cameroonian musical talent Richard Bona, now famous around the world.
Our Home News pages take you across recent happenings in Cameroon that might affect our economy positively in the near future. We join in celebrating the performances of the Indomitable Lions in the MTN African Cup of Nations in Ghana. We can't hide our admiration for Tiko United Football Club that is putting up a laudable performance in the MTN Elite One Football Championship in Cameroon.
Congratulations and Best Wishes to Nya and Armstrong as both celebrate their wedding. A look into matters arising in relationships brings out reasons that would make a man to marry and what often happens if his woman treats him nicely. A rise in BabyMoons in the West brings us back to how our mothers cross oceans just to pamper their daughters as the latter bear babies.
We give our support to the Limbe Wildlife Centre as it rehabilitates endangered wildlife. We also praise AFRICAPHONIE for releasing educative telefilms that touch on topical social issues like Female Genital Mutilation and HIV/AIDS. We invite married couples to register for the upcoming Married Couples 3-Days' Event scheduled for Seme Beach Hotel in June 2008. We also invite our readers to keep on voting for the nominees of the Success Story Readers' Award 2008.
Do join us at the FLAVOURS RESTAURANT for a meal of ACHU.
Tonge B. Ebai