TFF in the News
Experts discuss the past and future of U.S.-Africa relations
American Today
April 29, 2008
BY MIKE UNGER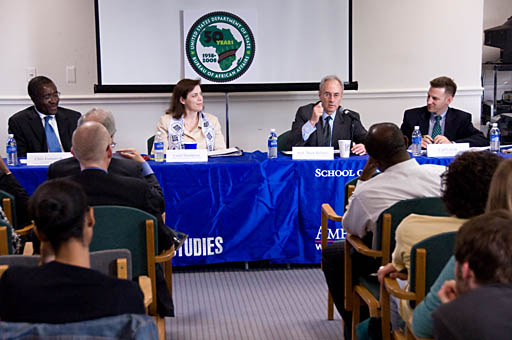 Chris Fomunyoh, left, Carol Thompson, and Mark Bellamy joined SIS professor Carl LeVan on a panel about Africa.
(Photo by Jeff Watts)
Two panels stocked with leading experts on Africa explored the continent's past and looked toward its future Wednesday evening at McDowell Hall during an event held to honor and celebrate the 50th anniversary of the U.S. State Department's Bureau of African Affairs.
Sponsored by the Council on African Studies, the Student Organization for African Studies, and the SIS Graduate Student Council, the evening featured two discussions-"Elections in Africa" and "50 Years of U.S.-Africa Policy: What will the next 50 look like?"
SIS professor Jim Mittelman began by looking back to the state of U.S.-African relations a half century ago.
"The goals of U.S. foreign policy through the Cold War were threefold," he said. "To thwart an enemy, to stop radical movements, and to gain access to Africa's rich resources. The flashpoints have changed, but the issues still remain."
Mark Bellamy is a senior fellow in residence at the Africa Program and International Security Program at the Center for Strategic and International Studies. A former deputy secretary of state for African affairs, Bellamy spoke about the changes in the way African leaders transition from power.
"The era of the big man in Africa is passing," he said. "Something culturally has changed fundamentally in the last 30 years. The change began in the late '80s, early '90s. In the '60s and '70s African governments changed through violence, coups d'etat, assassination. Seventy percent of change in government in the '60s and '70s occurred through violent means. By the end of the 1990s the number was infinitesimal."
Many African nations have adopted constitutions that include term limits for chief executives.
"One of the interesting results of that is that about 18 heads of state came up against term limits," Bellamy said. "Nine of them decided they weren't going to challenge the constitution. Three of them tried to change the constitution. They failed. Six others decided they were going to change the constitution and were successful. In all 18 cases, not once was a head of state tempted to act in an extra-legal fashion."
Carol Thompson is deputy assistant secretary of state in the Bureau of African Affairs. Despite recent questionable elections in Kenya, Nigeria, and Zimbabwe, she believes democracy is on the rise throughout the continent.
"It was not too long ago that there was a school of thought that democracy could only succeed in centers of wealth," she said. "The reason for this was thoughts that democracy is a Western value, when in fact it is a universal value."
Chris Fomunyoh is senior associate for Africa at the National Democratic Institute for International Affairs.
"Since the early '90s, we've witnessed well over 130 presidential elections throughout the continent, 69 percent of which have been considered credible," he said. "Africa still faces several challenges. Conflicts rage in Somalia and Darfur. Peacekeepers are still needed in places like Liberia and Sierra Leone. Unfortunately today too many elections are being conducted by interior ministries that are [beholden] to the incumbent or by elections commissions that are neither independent nor competent. I'll keep my optimistic [outlook] and say democracy is the lifeline for Africa's future."
It's a phenomenon Mittelman has witnessed firsthand.
"I have been present for elections in sub-Saharan Africa where peasants will come forward and wait for six hours under a burning sun for the right to vote," he said. "This is something that is cherished."